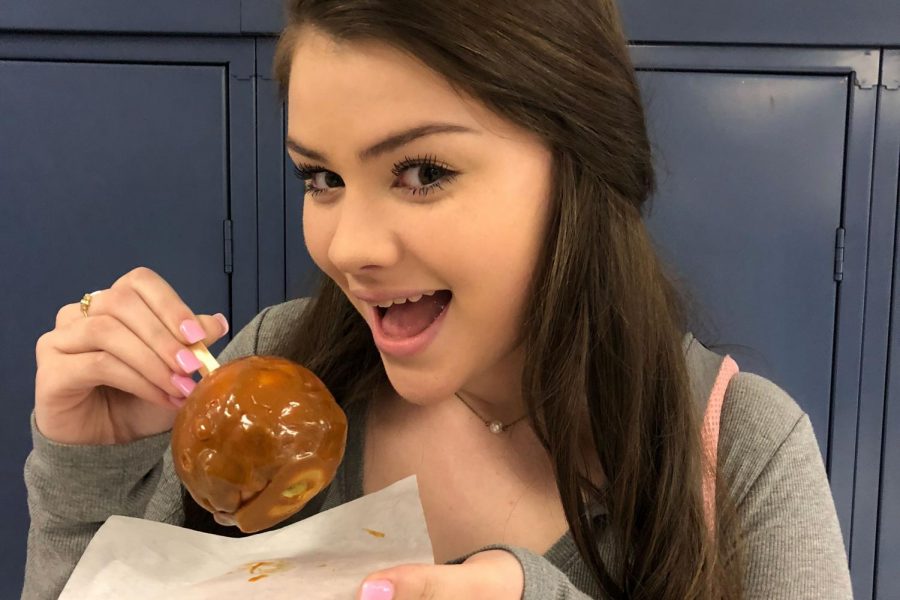 Avery Desruisseau
It's that time of year! Fresh, crisp, tart apples are slathered in sticky, sweet caramel; and if you're lucky, the beautifully glazed apples might be adorned with a coat of sprinkles or maybe even M&Ms. Yum! As a student, if you're interested in one of these sweet treats, then keep reading. Starting October 11, the Life-Skills program has begun selling caramel apples during Thursday CAV blocks.
About a week before they started selling the new snack, the Life-Skills program went on a field trip to Lull Farm, Hollis, to pick the apples that are now being used to craft the caramel treats. Milton Robinson, a special education teacher here at the high school, tells how the students are responsible for coating the apples in the caramel. The first week of crafting the apples, the kids got to dip them in hot caramel, "This past [week], because it was really hard to do the dipping [method], we used the sheets of caramel that you just wrap around the apples," said Robinson .
Signs are posted all over HBHS advertising the fun new treats. Kylie Whiting '19 is one of the privileged students that has had the delight of tasting the wonderful apples. "I saw the signs and I was intrigued. I really like apples and caramel apples so I bought one," said Whiting.
Although the apples may initially be more popular than the program's bi-weekly popcorn sales, due to students giving them a try, repeat customers may prove to be a problem. Kara Lukovits '19, another customer of the caramel apples, speaks towards the potential sales that could be produced. "Because the popcorn is only 50 cents (compared to three dollars), I think people will still choose popcorn over caramel apples just 'cause it's a more popular snack. [Popcorn] is easier to eat, and [the Life Skills group] gives you a lot of popcorn for the price" said Lukovits.
Whether you buy a 50 cent bag of freshly popped popcorn, or a perfectly tart apple for three dollars, you're definitely getting your money's worth. "I think [selling caramel apples] is a very good way to get profit and it's like a nice little treat for all the kids. They were totally worth three dollars," said Whiting.
The caramel apples are just the beginning, as the life skills group plans to make specialty items a monthly occurrence. Starting with the apples, every month there will be a new, fun option based on the theme of the month. "The caramel apples are only for the month of October. We'll be doing something different each month kind of with the theme of the month, although we're having trouble thinking of something for November," Robinson also commented.
Make sure to stay tuned for more fun treats during Thursday's CAV block. Popcorn will now only be sold on Tuesdays; Thursdays will become solely for the sale of the monthly special!