Games and results for: January 4-6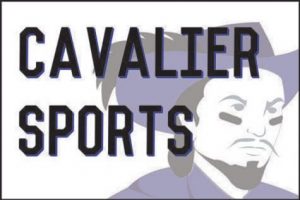 Results from Friday/Saturday – Jan 4/5:
The Boys Basketball team improved to 4-0 with a 44-37 win over Bow. Grant Snyder led all scorers with 13pts., Max Staplefeld with 11 and Tim Sulin with 7. The jv's lost.
The Girls Basketball team improved to 5-1 with a 55-35 win over Bow. Christina Balsamo led all scorers with 19 , while Brodie Kelley had 13 , followed by Elizabeth Atkinson and Amanda Goclowski with 6 each.Atkinson also had 9 rebounds. The jv's also won.
The Wrestling team traveled to Saratoga, NY and  finished in 13th place out of 19 teams in a field of all New York teams at the Saratoga Springs Invitational this past Saturday.  Leading the way for the Cavaliers was Owen MacMillan, who won the 220-lb. title by defeating both the #1 and #3 seeds on the day.  Scott Anneser also placed 5th at 160 lbs.
The Gymnastics Team placed 2nd in a quad meet with Milford, Souhegan and Merrimack
.
The 

Varsity B

owling

 team 

placed third after the standard round and third after the Baker round as well, losing to both Stevens and Pinkerton, but defeating Coe Brown in both rounds. Nic Vahe had a consistent day 

bowling

 a 192 & a 171. The 

JVs 

came in second after the standard round, losing to Stevens, but defeating Pinkerton. They finished first in the Baker round, defeating both teams. Cayden Plummer 

bowled

 his highest games yet with a 183 & a 193.
The Ski Team traveled to Loon Mountain , where the Boys finished 2nd out of 12 teams in the morning race while the Girls Finished 3rd out of 11 teams. Stephanie Menard took 1st place in the Giant Slalom with Izzy Menard taking 23rd,Catherine Donovan taking 25th , and Josey Farewell taking 29th. For the boys , Connor Farwell was 10th, followed by Ben Palmer in 12th, Maxwell Marshall in 14th , Connor Cardin in 32nd and Ian Babcock in 41st.
The Ice Hockey team was defeated 7-0 by the defending State Champions from John Stark/Hopkinton.