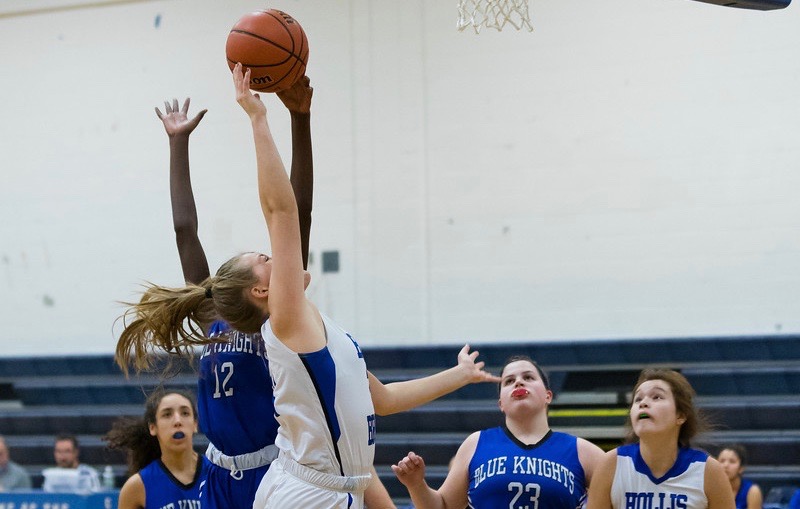 Leslie Eisenburg
The girl's basketball team is off to a great start this season. The team is 13-1 with four games left in the regular season. They've secured themselves a spot in the playoffs and are currently ranked second in division two of New Hampshire girl's basketball. 
The girl's team has competed in two of the last three Division II state championship games. The team made it to the 2017 championship, losing by only 8 points and in 2018 the team won the championship against John Stark. Last year was a rebuilding year for them, but they've bounced back this season and have a chance to return to the championship once again. The team lost three seniors last year but didn't let that affect their play this season. Instead, they chose to work harder to gain redemption from their failures of last season.
In a recent game, the girls took on Oyster River and won 66-23. Leading the team in scoring was senior Christina Balsamo, a three year player for the varsity team, with 21 points. The other two top scorers were Amanda Goclowski with 14 points and Amanda Robbins with 11 points. Balsamo has been a leading scorer all season.
"It's been a good start to the season, we started off strong and have continued our strong play to have our record of 13-1 up to this point. We have a couple of challenging games coming up but I feel like it will be a good test especially with playoffs coming up within a month," said Christina Balsamo '20, "We're looking to go far into the playoffs this year with the experience we have on the team. Everyone is committed and are all on the same page and want the same end goal." 
Amanda Goclowski '20 has been a member of the varsity team for three years, her first ending in a championship win "There are three seniors on the team, Elizabeth Bonnette, Christina and I, and the three of us are the captains. We had full expectations at the beginning of last season but somewhere along the way, we stopped playing our game. We had a rough ending which didn't make us competitive in the playoffs. This year we wanted a fresh start. We wanted a new upbeat dynamic." said Goclowski. 
Former varsity team member Sofia Barassi is impressed by the the current team. "We didn't have quite the outcome that we wanted during our quarterfinals game against Hanover last year, but I'm so proud of the girls for doing so well this season. Being undefeated this far into February is an amazing accomplishment, and I see a  strong playoff run for the girl's team" said Barassi.
Hanover and HB both undefeated at the time, battled on Friday, but sadly HB lost out 67-43. The leading scorers in the game were Elisabeth Stapelfeld with 17 points, Christina Balsamo with 11 points and Cheyenne Colbert with 6 points.
On Friday, Feb. 7 there was a lot of anticipation for the team's original match up against Hanover, but unfortunately, the game was rescheduled to Feb. 24 due to inclement weather, building even further anticipation for the game. This will allow for a rematch against the two teams in the hopes that HB can win their second time around.
Currently, the team's next game is against Bishop Brady on Thursday, Feb. 20.