Free Lunch Equals Empty Stomachs
As the 2021 school year nears to a close, reflections on the style of education are being considered for the way things will operate next year. The biggest concern in most of the student's eyes? Lunch. 
Principal Rick Barnes believes that the free lunch program is a great addition to the new structure of our school year considering the circumstances. 
"It was offered by the federal government; the thinking was that it was another way to help families in need because a lot of families were in need, and a lot of families that were in need did not want to introduce the program because of the stigma around it," said Barnes. 
Despite the positive focus of the program, some students do not see the benefits of the program. Class of '21 student Hannah Brown believes the portions just do not fulfill her hunger and others agree.
Do you feel the meal portion sizes are enough to fill your stomach?
"No not at all, because most things that come with the main item are just gross and I don't want to eat it," said Brown.
While the food portion sizes are repeatedly complained of, the food quality itself has gone down since years passed according to Liam Troddyn '21. "They're kind of coldish and do not taste that good," said Troddyn.
Troddyn and Brown both believe that the free boxed lunches are not satisfactory for a teenager's calorie intake. They think that the best way to improve the student's opinions on lunch is by keeping them warm and adding more portions. 
Now, this program seems beneficial to the school, to be supplying lunch meals to all students for free, but most of the milk and fruit ends up thrown away and students are left hungry after small meal portions and cold food. It also is more waste to give away free meals as most students throw out their meals. So who is the program really benefiting? 
The previous meal program was  $3.10 and included two sides, a choice of milk, a fruit cup/ apple sauce, the main course, and offered additional servings and snacks for an extra cost. This new program is one side, one small course, mandatory milk, and one fruit cup-esque side. However there is no option for extra servings or sides, and all meals are packaged in small boxes with minimal food. If the school returned to the paid program, they would be able to afford the extra servings and larger portions as kids would be paying for the meals and not taking free smaller lunches.
Troddyn and Brown '21 think that returning to the old lunch program would be better for his hungry appetite. 
Would you be willing to return to a paid meal program?
"Yes I would because I always go through the day starving because it seems like there is nothing appetizing to eat," said Brown '21.
Returning to the paid meal program would solve the portion issues, give more funding to the school for meals, and allow students to feel satisfied with their meals.
On the other hand, this program has opened up a wide gateway and removed the stigma for the families not able to afford the meal program. It gave kids that went from no food to some food. This program was available to students originally but families were skeptical and during the pandemic with parents losing jobs, this created a safe way for families to give their children food at school. 
Either way, Barnes is unsure how much longer this program will last, and he expects it to change tentative to the Covid pandemic.
About the Contributor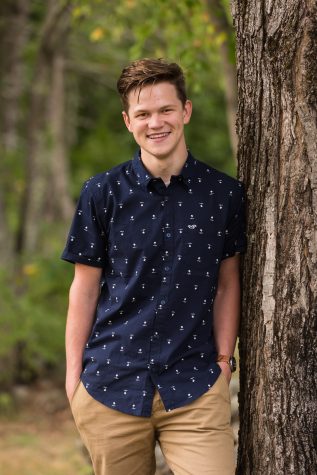 Gage McElroy, Staff Writer
Class of '21 Staff Writer Gage McElroy is an avid writer and car enthusiast that builds project vehicles in his free time. He has been interested in...