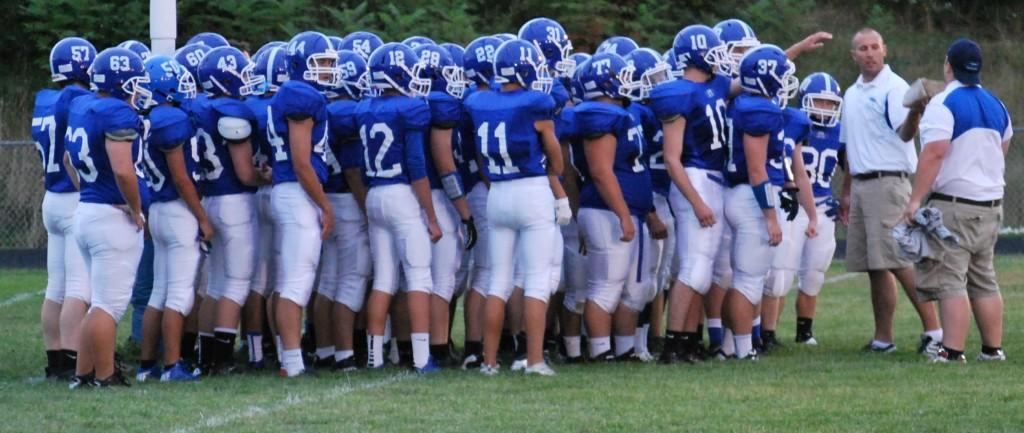 Whether it involves a new coach, new system, or a new mindset, the Hollis Brookline football team has gone through many of changes in the past twelve months, and they are embracing the fresh start. With first-year head coach Richard Bergskaug at the helm and a whole new playbook for both their offense and defense, the team is essentially starting from scratch and are ready to take New Hampshire by surprise this season.
After former head coach Milton Robinson, who had been the Cavaliers' only head coach since the program was founded, stepped down, it was Bergskaug's job to take over the team and lead it in a new direction, which included a completely revamped offense and defense that the players have gotten used to quickly. "The team is adapting well to the new offensive and defensive system. The players have worked hard to put the necessary time in to learn and get used to they new plays and formations. Our seniors have stepped up to help guide the younger players along," Bergskaug said. One of these seniors and one of the team's captains, Shea Farrell, '14, had similar feelings as Bergskaug regarding the new system, saying, "I love it. It was a little rough at first figuring out the new offense, but now that the season is rolling, everything seems to be coming together."
As the team started to get used to this new system, a new mindset came along with it, centered mainly around the theme of brotherhood. "We have an amazing group of student athletes who have shown me they have the drive and passion to be a successful football team. I appreciate how they have come together as a team and family," Bergskaug stated.
This year's team is based on the idea of family, and are ready to take on any challenges that come their way. As Bergskaug said, "Our saying on the back of our t-shirts reads: One Team, One Family, One Purpose – and that has been our theme this year. Our purpose is to be the best we can possibly be no matter what kind of adversity we are faced with."