HB theater students shine in the first ever 24 Hour Play Festival
After the HB Improv show on Friday, January 13, four students worked through the night to compose original 10 minute plays to be rehearsed and presented the following day. These performances were part of the first 24 Hour Play Festival, produced by HB alum Takuma Okada '16 and teachers Matt Barbosa and Gregory Parker.
"Many of these kids were first time actors, writers, and directors," said Parker. "the 24 Hour Play is an awesome way for these students to get involved and test the waters in order to see if this is something that they want to do in the future."
Seniors Vivek Nithipalan, Nicole Poitras, and Abby Rogers worked alongside Junior Patrick Grimes to see their words come to life onstage. The night prior, these students wrote original acts to be turned in at 7 a.m. An hour later, Parker, Barbosa, and student directors read through each of the pieces and delegated each of these scripts to directors Joey Schunemann '18, Lauren Moura '17, Maura Shanley '20, and Frank Pugh '18.
The actors were chosen at random. "The writers pulled names out of a hat to decide who got which role," said Moura "This was decided before the scripts were written so the writers could manipulate a certain role to fit the actor." The actors came in at 9:30 on Saturday morning, each of them meeting with their directors and reading the scripts for the very first time. Between 10 a.m. and 4 p.m., the groups rehearsed and memorized lines, working out any kinks. After an hour break, the students worked with the tech crew (sound operation by Parker and Okada, light operation led by Paige Solinas '19 and Barbosa), introducing lights and sound effects into the plays.
At 8 p.m., the shows were brought to life. The night started with an introduction from Parker and Barbosa and followed with Nithipalan's piece, "An Interesting Choice," a play inside a play. Poitras followed with her play "Birds," a story of a bird who learns to believe in himself and earns his wings. Next came "Seven," written by Rogers, a tale of two strangers stuck in the afterlife. The night ended with Grimes' "Snake Equality," a hilariously fascinating story of a solicitor. Each play gave the audience a laugh; some of the works taught the audience valuable lessons.
Shanley was one of the many students who helped each play transition smoothly. "My favorite part of the whole production would have to be the final products. Seeing it all come together made the hard work worth it," she said.
"It was a really fun process," said Paige Gionet '17, one of the actors in Poitras' show "I have acted before, but being directed by my peers was an interesting and fun change. It made it even better that all the writing was amazing."
As for the writers, the students were overjoyed to seize this opportunity. "This was such a rewarding process," said Rogers "We worked all night and through the next day in order to produce four original shows, and I would say our work definitely paid off."
Parker was more than satisfied with the 24 Hour Play Festival, as he was done similar events with his theater troupe in Cape Cod. "This is all to benefit our International Thespian Society. Our goal is to foster mature, well rounded thespian students," he said "I would say that each of these students exhibited our standards clearly and put on a great show for their friends and family."
About the Contributor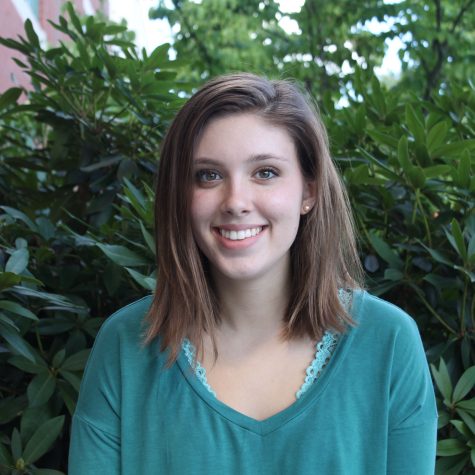 Caroline Kroeger, News Editor
Caroline Kroeger is a senior at Hollis Brookline High School. She has been with the CavChron for two years and has transitioned into News Editorship for...