Eagle soaring: Adam McQuilkin earns highest Boy Scout honor
There is an eagle among us. Hollis Brookline's own Adam McQuilkin '18 had his Eagle Scout ceremony on Wednesday, January 26, marking his accomplishment of reaching the highest rank in Boy Scouts.
In order to achieve the rank of Eagle Scout, a scout needs to complete a service project that benefits the community. McQuilkin's project was to modernize the cabins of Beaver Brook. His initial goal was to raise $300 for the project, but noticed quickly that it wouldn't be sufficient. "I ended up raising $900 at the New Hampshire Election primaries and other fundraisers, $600 of which were used for supplies." McQuilkin said. Then, he got to work. He started by putting a new deck on one, a new support beam on another, and new doors and frames on a few. He also gave the cabins a new paint job.
After the project, McQuilkin had to go through a board of review. "It's not so much a test. They ask 'did you complete your project? Did you check off what you said you'd do? Did you finish your list?' Then they ask questions to figure out what kind of person you are. They want to hear your life story. They ask what is your favorite merit badge, and why?" The board looks for young men who have demonstrated the ability to lead and take challenges head on to find solutions.
Adam has spent the past 11 years working towards this ultimate goal: to be honored as an Eagle Scout. "It all started back when I was a Tiger Cub in Cub Scouts. I didn't like it at first, mostly my mom pushed me to stay with it." But as Adam rose through the ranks and eventually graduated into Boy Scouts, his point of view changed. "Once I joined the troop, I became more independent, and it taught me to grow as a person and as a leader."
Looking back at all of McQuilkin's experiences through Boy Scouts, one memory stands alone as his favorite. "One time at scout camp when I was 13, we competed in the "man challenge", which is basically trying to bag (climb) as many peaks as possible in a day. We had just bagged our seventh, when the boys and I hear thunder out in the distance. We start digging it (sprinting) back to camp, we were just over three miles away. Then the skies open up, just downpouring on top of us. We tried to stay as dry as possible, but eventually we gave up. Instead, we started splashing and playing in the rain, and it was fun just being boys again, and not take it as serious."
About the Contributor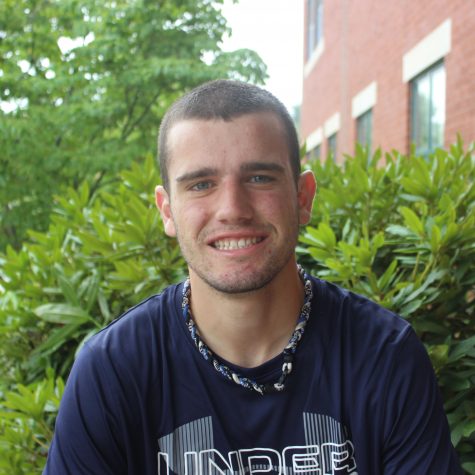 Colton Mailloux, Staff Writer
Colton Mailloux '17 is looking to make a splash on to the HB sport writing scene. He is an active participant in sports at HB, starting at cornerback...