HB student looks to knock out the competition
Hollis Brookline offers many different sports during all three seasons, from bass fishing in the fall to bowling in the winter and tennis in the spring. But one sport HB doesn't offer is boxing. There isn't much popularity surrounding boxing in the community, but there are some students who box behind the scenes on their own. Christian Moura '17 is one of those students: he has been boxing for about six years and competes as a novice.
Moura started boxing at the Nashua Police Athletic League (P.A.L.). Moura said, "I thought it would be cool so I asked my dad." When Moura went regularly to boxing practice he had to walk to Hollis Crossing, take a bus, and then walk five blocks to the gym.
Moura weighing in at 114 pounds, competed in the Central New England Golden Gloves preliminary tournament on Friday January 20, 2017, in Lowell MA, against Giovanny Hernandez from Intenze 978 Boxing Club out of Lawrence, MA. Moura won by split decision and will look to move on to the New England finals. His teammate from Nashua P.A.L Joseph Valdes won by unanimous decision in the 123 weight class. Last year, Moura came in second in his weight class during the New England finals, but looks to improve on his past performance.
HBHS SRO Richard Bergeron has some boxing experience of his own. Bergeron said while he was in high school he boxed at the West End gym in Lowell for "about a year until [his] grades took a hit." That experience prompted Officer Bergeron to start a boxing club here at HB three years ago: "Mr. Barnes and I wanted to start a club for kids who didn't do a school sport." The club ran after school at the Nashua P.A.L and was popular in its infancy but has since declined in popularity.
The boxing club is free for anyone under 18. If you have questions about the club, contact Officer Bergeron for more information at richard.bergeron@sau41.org
About the Contributor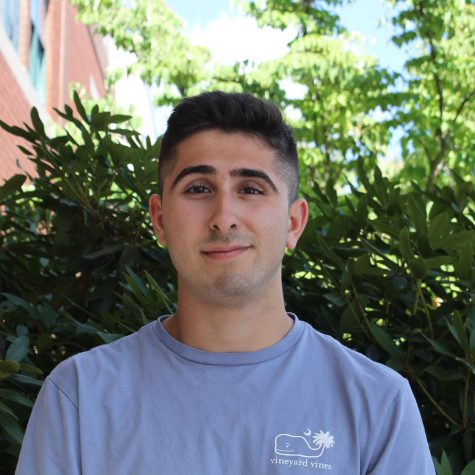 Mario Barassi, Assistant Sports Editor
Mario Barassi, '17, is a sports enthusiast. He enjoys playing catcher for the varsity baseball team, and loves to watch the Patriots on the weekend. Along...