Enter if you dare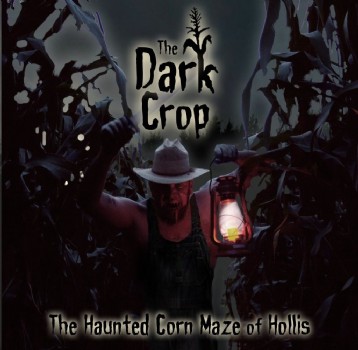 As the leaves start to fall off the trees and Halloween is just around the corner, seasonal fall activities are underway.
For the past three years, a spooky, haunted tradition has taken place at Lavoie's farm on Nartoff Road in Hollis.The Dark Crop is a corn maze that is haunted by HBHS' very own improv students, who scare and interact with the people who dare to go through.
Gerritt Morse, '15, is acting as a hillbilly in the maze this year. When asked what he likes best about working at the Dark Crop he said, "I love the feeling of the corn, and all the hillbillies. Were just like one big family."
John Beckett, '14 and Marcus Roche, '14, attended the Dark Crop last Friday night, and said, "It was awesome. Great way to spend a night with some friends and nature."
Friday and Saturday nights from October 4th through November 2nd, adults and children can go through the maze. $8 for adults, $6 for students.
Shea Farrell, '14 is planning on attending the Dark Crop this Saturday night. When asked if he was excited, he said, "Of course! I can't wait to be scared out of my gosh dang mind!"
In addition to hosting the Dark Crop, Lavoie's Farm sells some fantastic fall food, including warm apple cider. The brave souls who make it through can grab a delicious and steaming cup after the maze.
The Dark Crop is great place to spend the evening with friends and enjoy some of that Halloween spirit. Prepare to be scared.