The Brookline annual Fishing Derby
On Sunday, February 19, Brookline's community gathered for the town's annual Fishing Derby on Lake Potanipo from dawn until 3:00 p.m. This event has been hosted by the Recreation Commission in Brookline for the past 21 years.

The Recreation Commission hosts events like the Fishing Derby to raise money for the town's ball fields, ice rink, volleyball court, playgrounds, parking lots and other public places.

Yvonne Gutierrez, a member of the Brookline Recreation Commission, described her experience with the
event: "I've been on the Committee for two years now, and I'd say my favorite part of the Fishing Derby is seeing all the townspeople come out for the festivities." She continued, "There's lots of fish in this lake, but the biggest I've caught was over by the lighthouse: an eight-pound bass."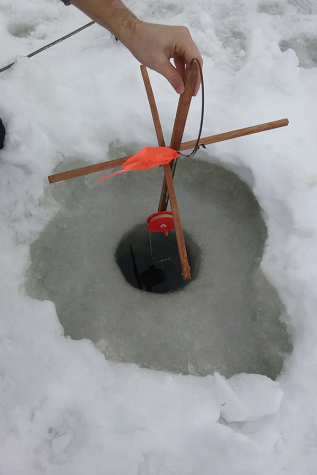 Robert Miller, who flew all the way to New Hampshire from Florida, was very excited for the Derby. "My favorite part is when the flag tips up on the fish trap," he said. "It's so exciting hand-reeling the line and not knowing what's on the other end – it could be the winner!"  Miller also mentioned that he loves to drive snowmobiles, and the fishing Derby has plenty of those!

The winning fish prizes are $300 for trout, $200 for pickerel, $100 for perch and $25 for any other fish. Some of the Derby winners for the day were a 17.25 inch pickerel, a 12 inch perch and a 15.5 inch crappy.
At the event was Todd Szewczyk, the Conservation Officer Sergeant for Fish and Game Commission Law Enforcement. Szewczyk was very excited that New Hampshire would be taking over the Animal Planet series North Woods Law. This season is featuring search and rescue dogs, as well as dogs that they use to find illegal hunts and shot shells. The series goes behind the scenes in our Game Wardens' real life experiences and cases close to home. Many of our state's Fish and Game Wardens and their cases are going to be featured this season on Animal Planet.

Szewczyk has had his job for 22 years, and he's wanted it ever since he was 10 years old. His job often includes checking licenses and registrations or stopping illegal hunting in his patrol area, which is from Nashua to Lyndeborough. "The longest fish I've ever seen win was a 26-inch pickerel," Szewczyk said, "and I think- it actually was a couple years back…a 3-foot eel won for the miscellaneous 'fish'." This year's fishing Derby was a huge success and everyone's hoping for more to come back next year!