Lavar Ball and the role of athletes' parents
For most athletes, whether it be at the high school, college, or professional level, their number one fans are usually their parents. From driving athletes to and from games, to practicing in the backyard, parents have a big hand in an athlete's career early on. Even in high school, parents help athletes contact college coaches and set up their kids with private lessons outside of school. It is obvious that parents have a significant role in their kid's athletic career. But where's the line when parents become "over-involved"? When do parents cross the line and become too serious?
From personal experience, there have been plenty of times I've seen parents "coach" their kids from the sidelines, regardless of what the coach is telling the team. In the end, athletics are about the students who play, not the parents. At Hollis Brookline, very few athletes are able to play in college. Coaches here aren't looking to base their whole team around one superstar player rather, they want to put the team's interests ahead of any one player's. Senior tennis player and cross-country runner Matt Williamson '17 said the high school role is to "go to the sport games and support their kids and their interests."
This year, University of California at Los Angeles basketball player Lonzo Ball caught the eyes of basketball fans as he had a spectacular year for the Bruins. Many basketball experts predict him to be one of the top picks in this year's NBA draft. Surprisingly, Lonzo hasn't gotten the most attention in his family: as Lonzo made plays on the court, his father, Lavar Ball, has made his own headlines off the court.
Throughout the season, the senior Lavar made controversial comments that caused an uproar among sports analysts. Back in February, he said his son, Lonzo, would only play for Los Angeles Lakers in the NBA, while also saying his son is already better than NBA all-star Steph Curry.
Before Lonzo has even taken a step onto a NBA court, his father has already raised expectations and added pressure for his son to succeed immediately at a high level. Lavar has also set-up a family brand called "Big Baller Brand", where he sells T-shirts and hats with the family's logo. Senior basketball player Ryan Swope pointed out the Ball's situation as an instance where "the parents are taking advantage of their kids for their own interests."
Even at a high level, parents seems to put their own interests ahead of the athlete's. When parents cross the line of their responsibilities, they make the games more serious and less fun for their kids. In high school, very few athletes ever go on to play in college. There is very little reason for parents to drive their kids into the ground and push them to their limits. High school sports would be better for everyone if parents kept calm and supported
About the Contributor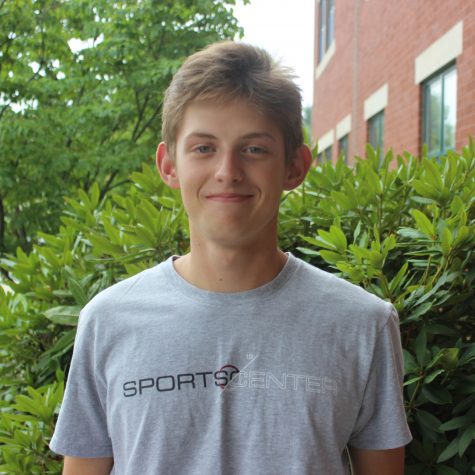 Jack Belanger, Staff Writer
Jack Belanger is a senior and is entering his first year of journalism. He is excited to add a lot of content to the sports section in the CavChron this...