Culinary club coming back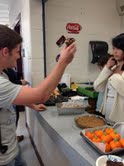 The Culinary Club has started back up after the club came to a halt in 2011. Mrs. Hancock, the Foods and Nutritions teacher, decided to start the club again. Every Tuesday, the club holds their meeting and cooks food that they will later sell on Thursday in the back lobby. When Mrs. Hancock was asked if she would like to continue the club next year, she said, "Yes, it's going well I'd like to do it again next year."
Hancock explained how the booth is open for thirty minutes and they intend to sell a variety of different snacks such as peanut butter squares, bottled water, cupcakes, grab-and-go snacks, and a healthy snack that consists of a variety of different fruits such as strawberries, oranges, and clementines. All profits go right back into the club and will be used to buy new equipment or food materials. Without the bake sale there would be no way of the club to keep up with the constant costs of food. After school, when the booth is open, students flock to get the delicious treats and customers are never let down by the selection of food.
Club President, Carlie Calzini, '15, is usually up in the back lobby every week to help with the bake sale. She is usually accompanied by a different volunteer from the club every week. In the last Bake Sale, they raised thirty dollars, and Mrs. Hancock was thrilled about the average of a dollar a minute, which created a good profit.
Fellow club member Tracey Cole, '14, explained how "it's a really good opportunity to get to know people and the food's amazing." Everyone in Culinary Club seems to be enjoying the relaxing stress free environment, and the money they raise goes towards more opportunities to make other foods to share.