A run for Us
On Thursday September 28th, 148 teachers and staff from across the district came together to participate in the first annual 2Run5k, a road race held on the HBHS campus. The race, a new addition to the community calendar, was created as a way to raise money in support for local charities, encouraging what photo coordinator Sarah McEwen described as "wellness and collaboration throughout the district."
At 4:30 PM, the participants lined up on the football field, waiting for the gun to go off and the race to start. The 3.1 mile course, created by chemistry teacher Yolanda Flamino of Hollis Brookline High School, was "a good mix between flat and a lot of downhill" according to Wilson Mason. Mason, a paraeducator in the CHOICE program at the high school, finished the course in under 19 minutes, placing first overall.  
While each runner was ranked individually, the percent of staff participation from each school in the district was the deciding factor regarding where the money raised from the event would be donated. Overall, the Hollis Primary School had the highest percentage of participation out of any school in the district, which allowed them to chose the event's beneficiary. In the end, the $2000 raised went to UNICEF efforts to aid victims of Hurricane Irma in Florida. Months before the race began, each participant was asked to nominate a charitable organization that they felt deserved the proceeds of the event. Many chose local charities, but as the race drew closer, it became apparent that the money needed to go to the hurricane victims. As McEwen put it, "we all like these charities [close to home], but this [hurricane] is right now."
Even though the event had never been run before this year, "it was very organized" according to Keely Scott '18, the president of the National Honor Society at HBHS. According to Scott, "[NHS] pretty much just showed up, and it was very easy for us to find something to do." As president, she coordinated volunteers from the high school that helped at the event, doing anything from handing out waters to guiding runners along the course. Helping out at community events is part of her yearly vision for NHS, known by members as a chapter project. The chapter project for the 2017-18 year, according to Scott, is to establish a sense of community between citizens in both Hollis and Brookline. As McEwen later recalled, the NHS members all "got a job and they went with it… everybody jumped in and did what they needed to do."
About the Contributor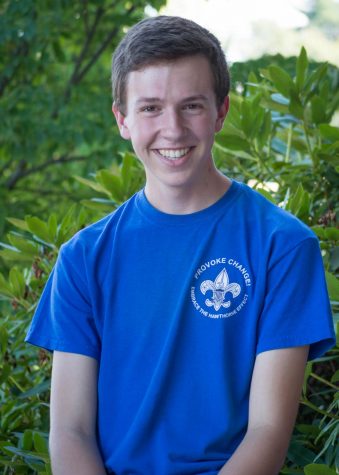 Adam McQuilkin, Staff Writer
Adam McQuilkin '18 is a member of the senior class at Hollis Brookline High School and is pursuing his interest as a photographer and video producer...