BEAT who exactly?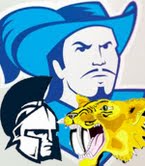 From the Cavalier, to the Spartan, to the Saber, these schools are sure that they are the best. Hollis Brookline has always had high pride and strong school spirit, but who are we really crossing our fingers will lose? Some say Milford, some say Souhegan, some say even the Nashua schools. Nate Powers '14, said "All the nearby schools have a rivalry. Everyone's trying to be Hillsborough county champions."
    Some say it really depends on the sport you play. Matt Fothergill '15, who has played on varsity basketball this past year quoted "I would say our biggest rival is Souhegan because everyone comes out to the game whenever we play them and it is always a fun, competitive game. The fan section for the basketball games is unbelievable and the chants are hilarious."
While on the other hand, Alec Grant, '14 and captain of varsity lacrosse said, "Derryfield High School, they field a really strong team every year and have won ever regular season game for the last two years." Grant said also with the Derryfield's championship victory last year, that the team is "really going to be going for them this spring season."
    As volleyball season continues, the cheering between schools has escalated to more than just good fun and support. At the last varsity volleyball game against Nashua North, Bobby Ripley '15, said "It was violent, lots of back and forth screaming."
So is there really one team that we're against? The answer is no. From sport to sport, based on division and who's better at what, really draws the line of who HB rivals with.