Dhruv Miglani's balancing act encapsulates spirit of HB
Mark Labak, Assistant Sports Editor
January 12, 2018
It's a Thursday morning in September, the leaves are rustling, it's a bit chilly and way too early for anything other than Dunkin' Donuts. If you happen to be driving through Hollis, you might just hear the sound of a basketball bouncing up and down at the Nichols' courts. Dhruv Miglani '19 is an hour early for a pickup game, putting shots up and perfecting his craft. "Everyone wants him on their team" says Max Mello '19, who plays pickup with Miglani. "You know he's going to take it seriously every time, and he's pretty good too." As his friends start to show up, there's one common phrase everyone repeats with a smile: "No days off." Miglani started using the term when he was in middle school and has kept it in mind ever since: "We didn't have [basketball] practice one day a few years ago. I went to the Y anyway to shoot around and took a photo and captioned it 'no days off,'" he chuckled, "I guess it just stuck."
With all of the clubs, activities and athletics Hollis-Brookline has to offer, you'd be hard pressed to find a student who isn't a part of something. Although some stick to one interest, oftentimes you'll find a multi-sport athlete, an actress who also loves to paint or, in Miglani's case, a varsity basketball player, National Honor Society member, Honors Jazz Band saxophone player and mathlete who's also the Class of 2019's President. That title can be a mouthful, and as you can imagine, managing his schedule is no small feat. "I get home and usually have 30 or so minutes of free time to maybe eat a snack or chill out with my family. Four AP classes is a lot of work, so after I eat, it's time to grind." Along with the busy schedule, having to help out with two younger siblings (a brother and a sister) is a lot to ask for a high schooler. "Sometimes I have to drive them places, watch them after school, you know. It gets tough with practice and homework."
Saying Miglani's schedule would be hard to manage for an "ordinary student" is certainly an understatement, but he's no ordinary student; he has very high hopes for his future. "I definitely want to be a doctor, or something in the medical profession. Right now my top schools are University of Chicago and Johns Hopkins University (Maryland), so it's going to take a lot of hard work." His goals are high, but he's prepared to do the work that's required and more. Khushi Patel '19 sees that work ethic in student council; "He runs all of the meetings with ease even though he may be stressed because of extra classes or sports. He does a great job fulfilling his duties." After all, whether it's through his athletics, studies, music or leadership, Dhruv Miglani has never taken a day off.
About the Contributor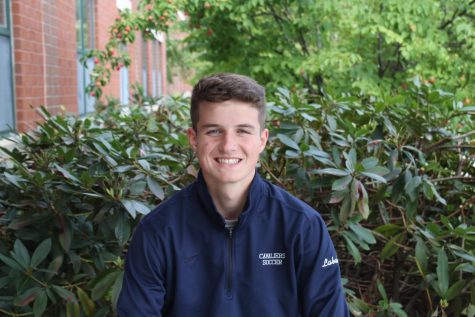 Mark Labak, Editor in Chief
Mark Labak '19 is a senior at Hollis-Brookline High School, and Editor in Chief for CavChron. He plays on the varsity soccer and lacrosse teams, and...