And your president is…Oprah?
Yes, you read that right. At the Golden Globes Sunday Jan 7, Oprah stole the show for many reasons. Now, everyone is speculating that the TV Host will run for president in 2020 after her intense speech at the awards ceremony.
Oprah has had an incredible career in entertainment. She has made an impact in almost all aspects of the world. Time Magazine even mentioned her as one of the 25 most powerful women of the past century.
People are very intrigued by a possible campaign, and some are in favor of a run by Winfrey. "Oprah is really everything that Trump pretends to be — successful, self-made, generous, charitable, beloved and the list goes on," said Democratic strategist Jesse Ferguson of CNN. Joe Caswell '19, agrees: "I think that despite Oprah having little political background that she would be a highly successful candidate. With Oprah being the highly talented speaker she is, I'd go as far to say if she ran she'd easily win the democratic nomination to face Trump in the general."
Caswell also mentions how in America, it seems as though voters do not vote on policy as much as on the person. One example of this is Trump supporters loving Trump because he "tells it like it is" and "isn't scared to say what's on his mind." rather than voting for him because of his policies. The presidency is based around personality for the majority of Americans, Caswell believes, and Oprah being the likable and talented speaker she is, she could easily become very successful in a presidential race regardless of her politics.
Rapper and actor Common is all for the "Oprah 2020" campaign as well. "One thing that I loved about President Obama was, no matter what his politics was [sic], you could tell he cared about human beings," he continued. "And at the core, Oprah is one of those dynamic human beings that cares about people, and we all saw that light, like, 'Wow, this would be amazing.' Of course, it would be amazing to have a woman, a black woman, in that position — but more importantly, just somebody that loves and that cares."
Of course, politics is a brutal field. So, naturally, experts and writers have been making pros and cons lists like madmen. Oprah running for office would mean, like every other candidate, her life being put under a microscope x100. Everything she has ever done, said or supported could be used against her such as her support of the book "A Million Little Pieces" by James Frey, a novel about overcoming alcohol and drug addiction that was later found to be made up of mostly fake stories.
2020 is going to be an interesting election with Trump possibly attempting to get another four years in office, but if you add Oprah into the mix, 2020 could be one of the most wild elections yet.
Take this poll to let us know what you think: https://goo.gl/R9tBr4
About the Contributor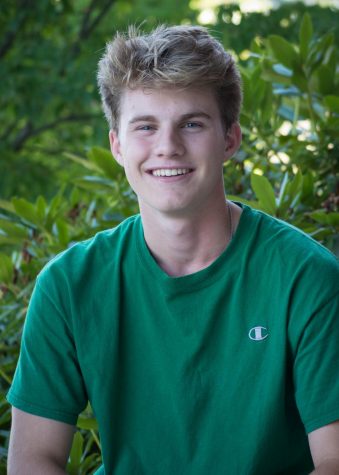 Joe Messina, Staff Writer
Joe Messina is a member of the class of 2019 at HBHS and is a first year journalist. At HB, he enjoys playing in guitar nights and partaking in clubs he...