Dynasty vs Dogs: Super Bowl 52 Recap
JP Blasi, Assistant Editor
February 20, 2018
Super Bowl 52 was expected to be a strange one in which a Hall of Fame coach and quarterback tandem appearing in their 8th Super Bowl would take on on a backup quarterback and a second-year coach. While it was dubbed the "Dynasty vs. Dogs" game–referring to the Patriots' almost-20 year dynasty reign and the Eagles underdogs playoff run–the Eagles surely didn't play like the lesser team.
Many former players and coaches say the way to beat the Patriots is to play like you're losing by a touchdown–even if you're winning by two. Many teams have blown enormous leads in big games over the past few years against the Patriots. This is because the Pats are so well coached they almost flawlessly execute when they need to, and because Tom Brady has pulled off miraculous throws time after time when the team has needed it the most. However, the Eagles learned from the mistakes of past losing coaches Dan Quinn and Pete Carroll. With a 15-12 lead with 34 seconds to go in the first half, the Eagles called the "Philly Special"–a trick play that ended in their QB Nick Foles catching a TD, extending the lead to ten points at halftime. "That's the way to beat the Pats," Sam Daigle '19 said, "you have to get creative. Bold plays and gutsy calls like that win you Super Bowls."
However, gutsy calls didn't just win the game. Through most of the game, the Patriots defense was rolled over by the Eagles. Nick Foles somehow torched them for 373 yards and two touchdowns, while running backs LeGarrette Blount and Jay Ajayi averaged 6.4 and 6.3 yards per carry. The Patriots had absolutely no answer for the Eagles, forcing only one punt all game. The Pats defense let up an astounding 538 yards, with no sacks. In terms of Super Bowl performances, barely any teams have ever played that poorly.
Many are saying the loss is on Bill Belichick – an unusual suspect for blame in New England. While Pats fans have coined the term "In Bill We Trust", faith seems to be wavering. Malcolm Butler, Pro Bowl corner and Super Bowl XLIX hero was benched with questionable reasons given by the coaching staff. Before the game, Butler was seen crying on the sidelines, and then proceeded to play just one special teams snap. Post-game, Butler was clearly upset and did not permit the media to ask him questions. Now former defensive coordinator Matt Patricia and Belichick both told the media it was not a good matchup for Butler, and they sat him for "football reasons" only. However, with so much on the line, it is unexplainable how Butler playing would have made the team any worse. With reports of egos clashing between Belichick, Brady, and Kraft, and other reports that Butler got lazy and demanded a big contract during the season, there is no clear answer why the Patriots coaching staff took the approach they did.
Whether or not the Patriots would have won had Butler played is unknown. Regardless, the Eagles executed at a high level and clearly had the better team on Super Bowl Sunday. But it makes fans wonder, is there trouble in paradise? Recently, the Pats swayed Colts coach to be Josh McDaniels to remain with the team by "sweetening his contract" and "enticing him to remain in New England," as reported by ESPN NFL Insider Adam Schefter. Could this be that there needs to be a middleman between Brady and Belichick due to their recent feud? Or an heir to the throne that is the head coaching job of the New England Patriots? The Patriots are a tight lipped organization and we may never know the true extent of the conflict, if there even is one at all. But it sure does make for an interesting off-season.
About the Contributor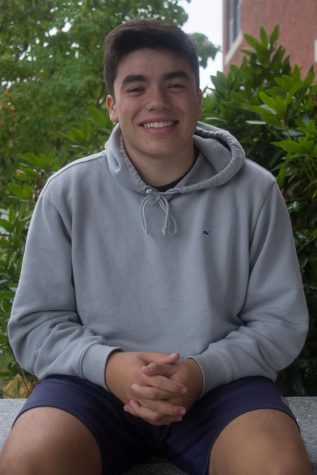 JP Blasi, Assistant Editor
JP Blasi is a senior at Hollis Brookline High School. He is a student athlete who plays varsity soccer, flag football, pickup basketball, and baseball....