World Language Week
Hang on for a minute...we're trying to find some more stories you might like.
National World Language Month is a month to recognize and appreciate all the cultures and languages around the world. It took place in March and the world language department at Hollis Brookline celebrated it from March 12 to March 22 with many activities during Cav Block. Candice Hancock, foods teacher, Matthew Barbosa, chorus teacher, and Lina Peper, art teacher, are also helping out with the festivities.To start each day, Jeremy Anderson would greet students and faculty members with a different language each day during morning announcements. There was a door decorating contest with Mrs. Peper, with a theme of "World Language Unity." Roman architecture was constructed with popsicle sticks along with a tongue twister contest. Trivia and Zumba also took place. Annie Roy-Faucher, a french teacher, taught a French Canadian dance, "La Bastringue" to Matthew Barbosa's dance class. Annie Roy-Faucher said HB's language department decided to celebrate this special month because, "It's something we wanted to do for years because every year the month of March is World Language month and we needed to finally celebrate it. Not much happens in March and we look forward to make this month better and better each year."
One of the more important events that took place during these two weeks was a bracelet sale with the Pulsera Project. The Pulsera Project is a non profit organization that buys handmade pulseras from Central American artists and joins student groups to sell them throughout schools in the U.S. This organization employs over 200 artists and proceeds help contribute to economic expansion in Central American Countries. A large variety of bracelets are being sold in the language rooms for 5 and 10 dollars. The Latin teacher, Matthew MacFarland said, "These bracelets are so special because buying one will help out a man or woman in another country that needs it the most." Buying one of these hand woven bracelets and bringing a piece of Latin American culture to your life will benefit communities who are less fortunate.
There are many different types of language and culture around the world and each kind deserves the same recognition. The teachers at HBHS helped spread knowledge of theses cultures and languages to students with fun, yet beneficial activities.

About the Contributor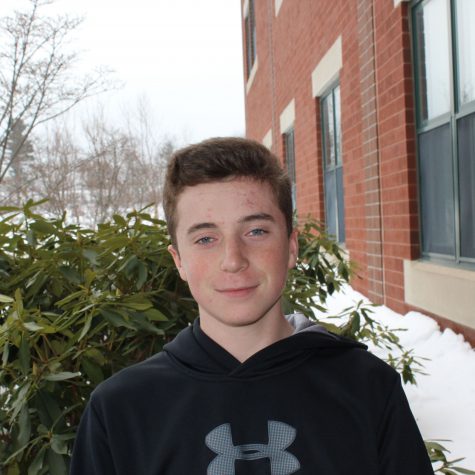 Mitch Dreyer, Staff Writer
Mitch Dreyer is a Junior at Hollis Brookline High School. He is a student athlete playing for the varsity golf and baseball team. Baseball is his main...