Academics and the consequential environment at Hollis Brookline High School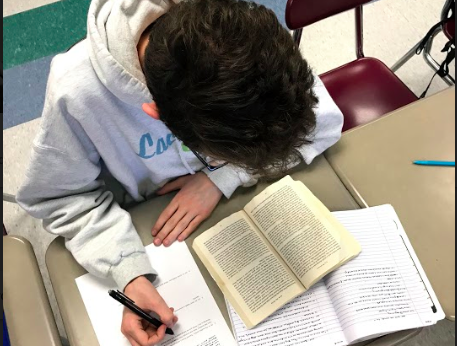 It is well-known that Hollis Brookline High School has a fantastic academic program. Why else would the school consistently rank in the top 5 high schools in New Hampshire? However, with these high academic achievements comes stress and what many feel to be excessive school work. These and other contributing factors bring up a question: is a heavy class load truly superior? What makes accelerated academics worth it to students?
In the 2018 school year, Hollis Brookline was recognized by US News And World Reports as the number one school in New Hampshire, ranking number 826 out of over 27,000 schools in the country overall. The nomination was based on college readiness, and how well the school did as a whole on standardized exams. This rank, according to guidance counselor Richard Winslow, fluctuates frequently and is based on many factors the school cannot control. However, the high ranking reflects very well on HB and the academics offered at the school, which is enhanced by the number of available accelerated courses.  
Nicole Plummer '19 took six AP classes in the 2017-2018 school year, a schedule which she was on track to complete since freshman year. Plummer will be going to college for music; however, she said that she feels that the AP and Honors courses offered here at HBHS do give students going to university a "leg-up". She takes these accelerated courses for the sole reason that she finds them interesting, making them worth her time.
She is not alone with that opinion. Samantha Price '20 is taking the maximum accelerated classes allowed in sophomore year. "I chose this course load because considering the career [nursing] I want to go into, I should really focus on my academics and strive to be the best academically. I took a heavier course load because I think it's important to have that strong course load. They allow you to advance more," said Price.
Another sophomore, Victoria Bruzik '20, emphasized the importance of AP classes to her future career. Bruzik mentioned that she was frustrated that she was not allowed to take any AP classes freshman year and that there weren't more high-level classes offered to sophomores. Both Bruzik and Price believed that taking as many advanced classes as possible was necessary to succeed in many academic fields.  
Heidi Foster, head of the English department, is very impressed with the drive of AP and Honors students. Like most teachers, Foster loves teaching the students who enjoy learning. "I love it when I have students who are really reaching, and maybe would not be the one to take AP, but want to challenge themselves and work really hard. They get a lot out of the course. In those situations, I do not care about [the AP test score]. In the classroom, that student had a good experience… I don't want to reduce kids to numbers," said Foster.
This theme of students challenging themselves as much as possible in high school has not always been so intense. "I have been here for many years. As a whole, students are much more serious now about their work then years ago, because they realize how competitive college is," said Michael Fox, English teacher extraordinaire.
Winslow also noted the recent change in the educational environment. He agreed with the students, claiming there was a definite push for students to load up with as many AP and Honors courses as possible. "This is a very rigorous environment, which, in my mind, is mostly pointed towards kids going on to higher education. It's gotten more vigorous. It's gotten more and more challenging for students," said Winslow. The well-loved PLC program was in fact instated for this very reason; it was a response to the increasing intensity of high school and is aimed to give students more time to catch up on sleep and/or do homework and staff a bit more time to prepare lessons and grade work.
Contrary to the popular belief that an all-accelerated schedule is the best path to success, sometimes an abundance of AP classes is not all it is cracked up to be. Plummer noted that she spends hours doing homework, but she immerses herself in after-school activities as well. Plummer strives for balance with what she does in and out of school, and capitalizes on its importance. "There are so many kids who get into [the school's] environment, which is 'go, go, go'… There is a constant competitiveness and constant drive to achieve and that has a really scary potential of taking the love for learning out of a lot of kids in this school," said Plummer.  
Oftentimes, students taking such challenging courses in areas that are not necessarily their strengths have significantly increased stress levels. According to a developing study by  USF College of Education Associate Professor Elizabeth Shaunessy-Dedrick Ph.D. and Professor Shannon Suldo Ph.D. at the University of Florida, students who take mostly AP and Honors courses face an immense amount of stress that they do not always have the support to deal with. "Research found the higher pressure academic environment produced increased levels of stress, caused increased mental health problems and reduced happiness, fewer friendships, and disengagement from school," said Shaunessy-Dedrick and Suldo in the study.
Student Marie Borkowski '19 did not want the extra stress that came with AP and honors courses and made the personal decision to design a more balanced course load for herself. Yet, despite her conscious decision, she still feels as though some of her peers judge her for not overloading on the most challenging classes. "[AP classes are] a lot of work. It is too much pressure to succeed for everybody involved. Unfortunately, it is looked down upon if you don't take those [AP] classes. An SAT score of 1100 [out of 1600] is portrayed as a really bad score here," said Borkowski.
However, in light of the stressful stigma around AP and Honors courses, the administration at Hollis Brookline High School has been diligently working to help students balance their schedules and keep up the academic focus without sacrificing their mental health. School services are available to all students feeling stressed about their course load, regardless of level or difficulty.  For example, Winslow stresses the importance of balancing classes every year during the course selection process and all of the guidance counselors encourage students to fill out the Student Activities Spreadsheet located in the Student Handbook.
Although the focus on diminishing the overwhelming stress in high school has been aimed towards AP and Honors students for the moment, it is important to note that class stress is felt throughout the academic scale. "I think there's pressure to have the "facade" of: 'I got this'. When inside, there is a disconnect. There are kids all over the [academic] spectrum who feel that way." said Foster.
Despite the perpetual stresses present in any competitive learning environment, the academic atmosphere at Hollis Brookline High School fosters teamwork and healthy competition among students to push each other to be more successful. The education offered at New Hampshire's number-one school is fantastic, and the staff and administration are consistently readvising programs in order to fit the current students. All students, however, are receiving a great education. "One of my friends, who worked in the guidance office many years ago, she said, 'Wow, do your parents understand that their kids are getting a private school education here at this public school?"' said Foster.
Overall, it seems as though the high level academics and the consequential environment plays a large role in the life and fantastic education of Hollis Brookline High School students.