Boys soccer on a roll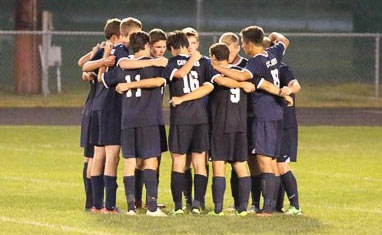 With the cold weather coming through, and the leaves on the trees changing from green to brown, fall sports get into their respective playoff seasons. While not all HBHS sports teams are playoff-bound, the boys soccer team is hitting the ground running for the post season grind.
    Finishing their season with a record of 14-2, the boys go into the playoff stretch with an impressive regular season drive.
Michel Pattelena '15, goalie, produced ten shutout wins for the team, and is confident his team will go far in the playoffs. Pattelena said, "We are the best team in the state, and will deliver a proper beating for any team in our path; until we have that ring on our finger."
    With six returning seniors and plenty of returning varsity players, the boys soccer team has no shortage of experience.
    Winning their last home game of the season 5-0 against Saint Thomas, seniors Ryan Lecours, Ryan Papineau, Sam Whitaker, Matt Claire, Nate Rocco, and Harrison Fetter were recognized for their years of dedication to the team and sport.
    Cole Owens, '15, is the team's leading scorer. Owens has great faith in his team, and said, "We're capable of beating any team if we play our game."
    The team heads into the playoffs being the number two seed; and hope to defeat their opponents on their way to the championship. The team plays in the preliminary round on November 3, at 3:00 p.m. in Hollis.