Games and Results for: May 16-17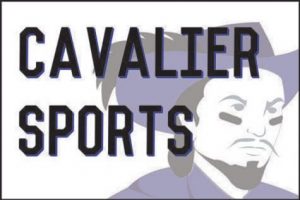 Results from Wednesday – May 16th :
The Boys Tennis team improved to 10-2 with an 8-1 win over Lebanon.
The 
Boys Lacrosse
 team defeated Windham 11-5. The Cavaliers offense opened up, led by freshman, Chas Dean, who had a hat tick and an assist in the win.  Junior Jon Kroposki had two early goals to get the Cavs on top early and they never looked back, converting a 2-2 tie after the first quarter into a 7-2 halftime lead.  Senior Goalie and team captain, Garrett Moloney, stopped seven tough shots to anchor a defense that shut down a potent Jaguars offense.  The Cavaliers move to 5-8 and host Pembroke 
on Thursday
 which is Senior Day.
The 
Volleyball team
 improved to 9-4 with a 3-2 win over previously unbeaten Timberlane ( now 11-1).Scores were 17-25,25-17,25-22,18-25 and 15-13.Top performers were Jonathan Brackett 32 kills, Matt Simco 11 kills, 8 blocks , Mike Moscatelli 10 kills, 4 blocks,Scott Van Coughnett 52 assists, 4 aces and Felix Yang 13 digs Jonathan Brackett earned his 500th career kill 
tonight
, and is currently second in Cavalier career kills. Scott Van Coughnett set a school record for most assists in a match with 52, surpassing the previous high of 47 by Adam Zingales in 2016. The Jv's lost 2-1
The Girls Tennis team lost to Souhegan 7-2. Singles winner was Samantha Randlett and Doubles winner was Eisenberg/Morse.
It took 11 innings but the Baseball team was able to prevail 4-3 over ConVal to win their 5th game in the last 6 outings. Joe Messina started and threw 82 pitches through 6 innings and pitched very well.  Mello came in and pitched well for 4 2/3 and got the win and Henri Boudreau got the save and the final out. Tyler Macdormand had 2 hits for the Cavs and the Cavs had 3 successful squeeze plays that scored 3 runs led by Grant Snyder with 2 bunts and Mitch Dreyer with 1.
The Jv Baseball team improved to 11-1 with a 5-2 win over ConVal.
The Softball team lost a close one to ConVal 8-7.
The Jv Softball team JV Conval 21-14 on our Senior Day. Senior Amanda Berthiaume had 3 hits, scored 4 runs and made a great catch in Center field to end the game in the top of 7. Freshmen Bella Ferrazzani 5 for 5 and Hannah LaPointe 3for3, (2 doubles, single)were strong on offense and defense. Autumn Farrow, starting pitcher had 5Ks and Marissa Brickner closed with 4 Ks.
Games for 

Thursday

 – May 17th :
Girls Lacrosse
 at Winnacunnet,dismissal  at 
1:45pm
 ,bus at 
2pm
 with games – V at 
4pm
 and jv at 
5:15pm
Boys Tennis
 at Conval, dismissal at 
2pm
, bus at 
2:15pm
 , match at 
4pm
Varsity Baseball/Softball
 host Oyster River, games at  
4:30pm
Boys Lacrosse
 host Pembroke, V at 
4pm
 and jv to follow