Common App Catastrophe
The government isn't the only thing shutting down in recent weeks. College-seeking students around the globe have been getting increasingly irritated with the glitchiness of the Common Application, a unifying application which includes over 500 universities and colleges. A stressful time as is, the unreliability of the Common App is proving to be a completely unnerving experience.
However, not everyone is having problems.   Conor O'Shea, '14, said, "The Common App can't hold me; I have had no problems so far."
"
The Common App can't hold me; I have had no problems so far."
— Conor O'Shea '14
Some aren't that lucky though. John Beckett, '14, said, "The Common App has been incredibly glitchy with me lately. It's really disappointing that such a valuable piece of the college application process is not working".  Some of the glitches include: being locked out of accounts, incorrect word counts on essays, frozen screens, page redirections, and more. Many institutions have recognized this college catastrophe and are extending their Early Action or Decision deadlines. The colleges are catching on and realizing the magnitude of this website malfunction truly shows the mass effect that The Common App has on the lives of students.
About the Contributor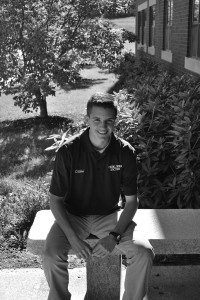 Matt Claire, Sports Editor
Matt Claire is a Senior and Sports Editor at Hollis Brookline High School. This is his second year on the staff and his first as an editor. Claire's played...