Last week's Massachusetts house fires
Three towns in the Merrimack Valley area, 40 minutes away from HBHS and just over the Massachusetts state line, have been put into state of emergency by Governor Charlie Baker due to gas fires that destroyed homes. One person has been killed, and 20 have been injured in this event. The only death was an 18 year old who was killed after a chimney was blown off a home and crushed a car with him inside.
The fires were caused because The Merrimack Valley area gas lines, owned by Columbia Gas, had been over-pressurized up to 12 times the normal pressure. The gas leaks resulted in 8,600 customers being without gas or homes by the end of the fires. Columbia Gas had previously announced that it would be redoing pipes the same day of the fires.
Columbia Gas and its parent company, NiSource, is one of the oldest gas companies  in the New England area. With a market cap of $8.4 billion, going out of business is far from in the company's prospect, but many consumers will now be in the market for a new gas company, for obvious reasons. "Families are going to need to be able to have hot water. Families are going to need to have heat at night. Right now, Columbia Gas is not able to tell the people in the Merrimack Valley when that is going to happen," said the Senator of Massachusetts, Ed Markey.  Markey plans on sending Columbia Gas a list of detailed questions on how the fires occurred. All eyes are on Columbia Gas: even Governor of Massachusetts, Charlie Baker, called Columbia Gas "inadequately prepared," and Baker renamed EverSource the company in charge of the reconstruction of the Valley area.
"I honestly feel as the though the gas company has a big incentive to do a good job monetary, there's a big new market because of the consumer not wanting Columbia Gas," said Teagan Hudzik '19, who has family in the affected area. Being scared to turn the gas and electricity back on is a natural reaction, and Hudzik describes the feeling across not only the three towns, but all of Massachusetts as "immediacy to change [providers] is still there."
"[My family] themselves are ok, but their friends and family have been negatively affected with the fires," said Hudzik."It's gotten better [since the fire] and it's getting back to normal, but such loss occurred. There's a bit of an emptiness to the air. Lawrence isn't a safe place but the people made it safer, now they don't feel as safe," Hudzik continued.
The feeling of loss comes not only from the numerous amount of fires, totaling almost 60, but the volume of them, with 18 fires burning at once at the worst points, reported the Andover Officials. Homes in the three towns have been razed to the ground, displaced peoples have been shuttled to hotels, and both New Hampshire and Massachusetts have sent aid to help those in need.  
Wherever you are, a local home improvement store will carry gas leak detectors for anywhere from $20-100 depending on the grade of the device. It never hurts to have your home tested. In addition, to help restore the Merrimack Valley area, places like Greater Lawrence Relief Fund are taking donations for relief aid.
About the Contributor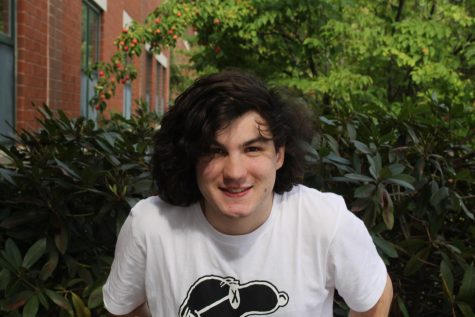 Alec MacEachen, News Editor
Alec MacEachen, senior and first year journalist, is an avid hockey fan, and is captain for the HBDS hockey team and a news watcher. He enjoys his time...