Games and results for: October 12-15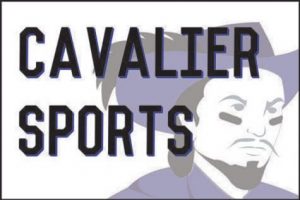 Sports, Writer
October 15, 2018
Results from Friday/Saturday – Oct 12/13 :
The Volleyball team improved to 15-0 , with a 3 match sweep over Pinkerton with scores of  25-23, 25-19, and 25-22. Top performers were Elizabeth Atkinson 12 kills 3 blocks, Kaleigh Whalen 9 kills 8 digs,
Maddie Norris 8 kills 12 digs, Kyra Belden 30 assists 2 aces 8 digs and Sammie Sheppard 20 digs.
The Boys Soccer team won their 4th game in a row with a 5-0 shutout over Souhegan to improve to 11-4. Scoring goals for the Cavaliers were JJ Kennedy (2) , Bryan Wright , Jake Sacks and Max Burns. Assists were recorded by Joey Dias (2) , and Andy Basque. Joey Dias and Dale Jacobs had an incredible game and contributed to the win. Ryan Coutu had 4 saves in goal.The Boys JV Soccer team closed out the regular season with an exciting 5-1 victory at Souhegan on Saturday afternoon.  In spite of several players being out due to injury or illness, the team executed a team defensive strategy taking advantage of offensive fast breaks and jumping out to an early 2-0 lead on goals by Liam Baldwin and Tim Cole.  Staying with the strategy for the entire game, the team put out tremendous effort on a rain soaked field with Noah Sinclair,  Jonah Sacks, and Danny Sattler contributing to the scoring.
The Girls Soccer team improved to 9-3-1 with a hard fought 1-0 win over Merrimack Valley. For the second consecutive game Maddie Harley found the game winner , when at 38 minutes she took a pass from Paisely Broadhurst and buried it beneath MV keeper Madison Merchant's dive (12 saves.) Also for the second consecutive game , HB keeper Maggie Crooks had a game saver going to the top corner for a parry save, once again slamming into the poor post at the conclusion of the most spectacular of her 10 saves.  The defensive unit of Sarah Birch, Christina Balsamo, Steph Menard and Abbie Ogren did not bend as Merrimack Valley sent numbers forward in the second half, and Tasha White was superb holding the ball up top to keep the pressure off
The Field Hockey team played a tough game against Sanborn, jumping to an early lead ten minutes into the game when Sofia Barassi caught the net from an impossibly tight angle on the left side of the circle. Sanborn tied it up about ten minutes later, sending the teams into halftime tied 1-1.  Despite top defense from Jordan Mazzola and Emma Elkin and some eleven saves by goalkeeper Abbie Fitzgerald, Sanborn was able to score once more with only about five minutes left in regulation. HB was unable to answer back and lost, 1-2.  Delaney Weimer, Valerie Labak, Gabby Paquin, and Savannah Murphy also played impressively in the contest.
Matt Dias was the lone qualifier for the Division II Individual Golf Tournament and he finished 5th overall with a 36 hole score of 161. Congratulations to Matt on the great showing.
The Football team fell to 4-3 with a 35-28 loss to Souhegan.
Games for Monday – Oct 15th :
The Girls Soccer team hosts Milford, V at 4pm and the Jv's at 4:30pm
The Jv Football team hosts Souhegan at 4pm.
The Volleyball team travels to Spaulding , dismissed at 1pm , bus at 1:15pm , with jv at 4pm and the V to follow