Games and results for: January 11-13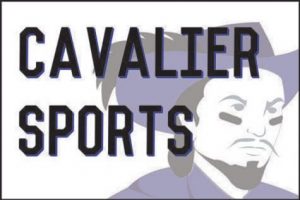 Sports, Writer
January 11, 2019
Results from Thursday – Jan 10th :
The Girls Ski team finished 2nd in a 6 team race at Crotched Mtn. Scoring for the Cavs were Stephanie Menard – 1st place,Izzy Menard -3rd , Catherine Donovan-12th and Josey Farwell -17th. The Boys Ski team finished 4th out of 6 teams with the following scorers: Max Marshall-11th, Connor Farwell -13th,Ben Palmer-15th and Connor Cardin- 19th.
The Wrestling team improved to 5-1 on the season, and 4-0 in Division II, with a 55-18 win over the Milford Spartans tonight.  Securing pins for the Cavaliers were: Connor Ramage (113), Dan Delong (138), Scott Anneser (170), and Tyler St. Pierre (182).   Also winning were Zack Brickner, Owen MacMillan, and Ted and Troy Moscatelli.
Games for Friday – Jan 11th :
Boys Basketball at Kingswood, dismissal at 1:30pm, bus at 1:45pm , jvs at 4:30pm , V at 6pm
Girls Basketball host Kingswood , jv at 5:00pm and V at 6:30pm.
Games for Saturday – Jan 12th :
Wrestling at Nashua Trn.,bus at 7am , match at 9am
Bowling at Spare Time , bus at 7:30am , match at 9am
Gymnastics vs Pelham ,meet at A2 Gym and Cheer in Salem, bus at 2:15pm , meet at 5pm
Ice Hockey at Laconia, bus at 10:45am , game at 1:45pm
Games for Sunday – Jan 13th :
Swim team at Derryfield ( SNHU ) , bus at 1pm , meet at 3pm
Indoor Track at Plymouth State, bus at 7:45am , race at 10am