Games and results for: January 25-27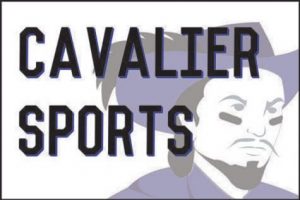 Sports, Writer
January 28, 2019
Results from Friday/Saturday – Jan 25/26 :
The Bowling team worked well together, having a consistent day from every bowler. In the standard round, they placed 3rd out of 5 teams. After the Baker round, they placed second, beating Spaulding 2-0 and losing to Goffstown 2-0.The JV bowling team placed first after the standard round and first after the Baker round. Sky Mack bowled great for the Cavs (177, 135).
The Ice Hockey team notched another win, beating Moultonboro-Inter lakes 3-2 behind net minder Chris Slater. There was an all around team effort backed by a strong defensive presence. Goals scored by Paul Vachon and Dylan Terenzoni. Jacob Roy had one goal and an assist. Other assists by Sal Vella, Colin McDonald and Joey Oetjens's. Record Improves to 6-4 .
The Girls Basketball team improved to 10-2 with a 57-34 win over Pembroke. Brodie Kelley led all scorers with 21pts., Christina Balsamo, Elizabeth Atkinson and Abbey Magnuszewski had 6pts. each. Maggie Crooks pulled down 11 rebounds.
The Boys Basketball team dropped to 6-4 with a 59-43 loss to Pembroke. Grant Snyder was the high scorer for HB with 15 points,while  Sander Wimmer chipped in 6 points and Brian Holroyd had  4 points and  5 rebounds.
The Indoor Track team attended the UNH Qualifying Standards Meet on Sunday January 27th, the last meet before seeding for the DII state meet. Kay Partridge set a personal record for the 2018-2019 season in the 1000m at 3:17.54. Amy Pattelena placed 4th in 1500m at 5:26.44. The girls 4×400 made up by Vanessa Thomas, Naomi Kopser, Kay Partridge and Amy Pattelena placed 9th with a time of 4:49.34. In the boys 55M dash JJ Kennedy placed 1st overall and Joey Dias placed 2nd. Jordin Stone placed 5th in the 600M as did Chase Adams in the 55M high hurdles. Kyle Simpson has a personal best in the 1500M  and the 4×800 relay team made up by Aidan Maguire, Nathan Maloney, Kyle Simpson and Jordin Stone placed 2nd overall. The 4×160 relay team made up of Rob Bardani, Chase Adams, Joey Dias and JJ Kennedy also placed 1st overall breaking 1:20 for a team PR