Games and results for: February 8-10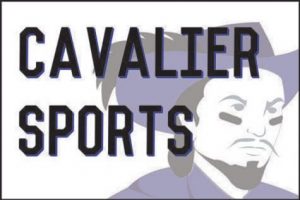 Sports, Writer
February 11, 2019
Results from Friday-Saturday-Sunday , Feb 8th,9th and 10th :
The Hollis Brookline Wrestling team went 3-0 on Saturday at the Cavalier Classic with wins over Alvirne, Pelham, and Winnisquam. They finish the season at 12-4 and will be competing in the Division II State Championships at Goffstown HS on Saturday 2/16
The Varsity and JV bowling teams competed in a 5 team meet. Varsity placed second overall (3rd in standard & 2nd in Baker), JV placed 1st overall (2nd in standard and 1st in Baker), & the team's 3 seniors (Skylar Mack, Holly Cardoza, & Mike Moscatelli) celebrated their "senior day." In the standard round, Varsity's Ben Lafontaine (202, 182) & Nic Vahe (212, 167) had great days for the Cavs. Cayden Plummer (190, 150), Skylar Mack (177, 144), and Rory Klauber (122, 188) bowled well for the JV team. Both the varsity & jv worked well together to win some very close Baker matches. Varsity will finish the season in 6th place out of 15 teams & take on 3rd place Merrimack next weekend at the Team Championships at Strikers East in Raymond at 10 AM
On Saturday, the HBDS Warriors Ice hockey team beats Laconia 6-4 in a well attended match on home ice at Conway Arena. Scoring was lead by Dylan Terenzoni with two goals on the night. Other goals were scored by Nick Dapolito, Andrew Nordstrom, Sal Vella and Paul Vachon.Goals were assisted by Jacob Roy, Jared Sanborn, Alec MacEachen, Colin MacDonald, Sal Vella and Ryan Caparrelli .Goalie Rylan Morgan had a strong night with 15 saves. On Sunday, they lost a close one 2-1 in OT against Conval. Sal Vella scores HBDS lone gaol unassited. Chris Slatter with a solid game in net with 18 saves. Season record is currently 8-6.
The Gymnastics team finished in 14th place at the NHIAA Gymnastics State Championships.Olivia Spokane was 26th in the All-Around while Samantha Shepard was 34th. Olivia also placed 28th on bars and 26th on the beam.
The Boys Basketball team lost to Hanover 56-51 to fall to 7-5 on the season.
The Girls Basketball team lost to Hanover 70- 54 to fall to 10-4 on the season.
Games for Monday – February 11th :
Boys Alpine Ski State Championships at Crotched Mtn. , race at 9am