Results for: February 15-16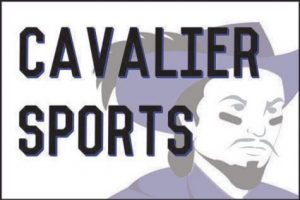 Sports, Writer
February 18, 2019
Results from Friday/Saturday :
Congratulations to the  Wrestling team for winning the Division II State Championship this weekend, beating second place Bishop Guertin by 19 points.  Winning individual championships for the Cavaliers were freshman Troy Moscatelli (120) and seniors Dan DeLong (126), Scott Anneser (160), Zack Brickner (182), and Owen MacMillan (220).  HB also had 2 other finalists, for a total of 7, with freshman Colin McGarry (113) and sophomore Teddy Moscatelli (138) finishing in 2nd place on the day.This is the 5th team title in the last 12 years. Coach Bumpus was also chosen as the Div. II Coach of the Year by his peers.
The  Bowling team competed at the state tournament on Saturday.  They were knocked out by a strong Merrimack team 3 games to 1.  HB won the first game, lost the second game by 1 pin, and then lost the last two
The Girls Basketball team improved to 11-5 with a 52-32 win over Kearsarge.
The Boys Basketball team fell to 7-6 with a 54-47 loss to Kearsarge.
The Ice Hockey team lost to #2 ranked Monadnock 5-0 to fall to 9-7 on the season.
The Boys Jv-B Basketball team defeated Sanborn 44-32 to finish their season.
No Games for Monday – Feb. 18th :