Getting prepped for sports season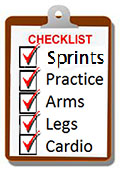 Fall sports are wrapping up and it's time to get the winter season rolling. With tryouts coming up in a few weeks, many students are getting prepared for the upcoming season with different methods.
Basketball is one of the biggest winter sports this season and many players are already prepping. Jenna Hyatt, '14, said, "It's really good for the team to get ready for the season, we've been going on after school runs to get our cardio started for tryouts." The girls basketball team has also gone to Pure Life, doing all sorts of workouts like kickboxing.
Like Hyatt, many other players thinks it's beneficial to begin their pre-season workouts. Ryan Papineau, '14, said, "It helps for all players to do pre-season workouts so tryouts and practices aren't spent getting everyone in shape."
For those who are already in a fall sport and are ready to go, they're workouts seem to be with the team they are already in. Sydney Macleod, '14, said, "I'm getting ready for the winter track season by going on runs, as well as playing field hockey." Macleod and many other athletes are in the same situation where their pre-season workouts are just being on a team to keep themselves in shape.
For those who need to start that pre-season workout, running seems to be the popular option. Most winter teams are doing workouts after school or have tips for those who plan on trying out. Tryouts are beginning soon, so those pre-season workouts should begin soon as well.