Boys lacrosse shoots hot into the season
Hang on for a minute...we're trying to find some more stories you might like.
The boy's lacrosse team underwent a major coaching change this offseason, but with a team of experienced seniors and promising underclassmen, expectations are high. After back to back Final Four appearances from 2016-2017, the team was eliminated in the opening round of playoffs in 2018. This season is all about returning to the Final Four and competing for a championship, and they're off to a hot start.
The team brought in two new young coaches, Cameron Hayward, and Marcus Donahue, both of which were lacrosse players at Mount Ida College. Given their youth, the coaches quickly established a conditioning-oriented practice style. While the players are quick to complain about the running, they also admit it will help them in the long run when their fitness is more impressive than their opponents. "It's good for any program to be at top physical fitness. It makes us stronger mentally and teaches us to push through the final set and go hard on sprints," said midfielder Jonathan Kroposki '19.
The team's offseason consisted of mostly weight room sessions, which combined with the rigorous conditioning after tryouts, led to some concern over whether or not their skills and shooting would be at the level needed to compete at the varsity level. "We are in good shape, but the lack of skills sessions during the offseason meant our stickwork wasn't where it should have been. We were a little rusty," said midfielder Tim Sulin '19.
Through the first three games, however, the boy's have shown no signs of rust. The Cavs started off their season 4-0, outscoring their opponents 57-12 combined in that span. They've had so much success, in fact, that they have been able to give some of the younger players experience of playing at the varsity level. On April 12, the team took on Spaulding and quickly jumped out to a large lead after five first-quarter goals from Sulin. This allowed Sulin and the rest of the starters to get rest and ensure they stay healthy for a playoff run while letting swing players gain experience.
A big factor in the team's success, despite the coaching change, has been the chemistry. Working in a new coaching scheme can take time, but the varsity team has been playing together for years now and has bonded through offseason leagues, all of which help them tremendously on the field. "Chemistry always takes time to develop, but our seniors are definitely all on the same page. It'll only get better as the season moves forward," said Kroposki.
The team has lofty goals for the season and hopes to return back to the Final Four for the third time in four years. "Our goal is to go undefeated and make a run for the championship," said defender Connor Farwell '19. In order to win it all, they'll have to take down three-time defending champions: Derryfield, but the boys believe this is a team capable of dethroning the champs.
About the Writer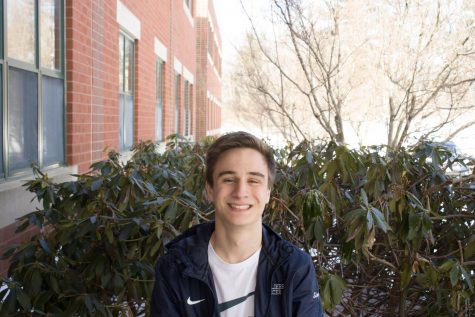 Kyle Simpson, Staff Writer
Kyle Simpson '19 is a senior at Hollis Brookline and a writer for the Cavchron. Outside of writing, he plays for the varsity soccer team and runs both...