Games and results for: April 30-May 1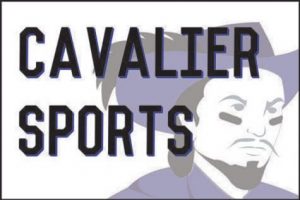 Results from Tuesday – April 30th :
The Boys Track team placed first while the Girls team placed second at the Sanborn meet.Taking 1st place in their events were –
JJ Kennedy – 100m , Rob Bardani – 200m, Jordin Stone: 400m and High Jump, Aidan Maguire -800m, Kyle Simpson -1600m and 3200m
Chase Adams – 300m hurdles, 4×100 Relay: Rob Bardani, Isaiah Velez, Joey Dias, JJ Kennedy , 4×400 Relay: Aidan Maguire, John Kotelly, Rob Bardani, Jordin Stone, Kay Partridge 3200m; 300m hurdles,and  Lily Jackson -discus (124'8"!)Javelin
The Volleyball team improved to 4-2 with a 3-0 win over Goffstown by scores of 25-22,25-23 and 25-17. Top performers were Matt Wojick 12 kills, Connor Russell 3 aces,
Joshua Ide 28 assists ,Marshall Coutu 5 blocks and Felix Yang 18 digs.
The Baseball team improved to 5-0 with a 7-3 win over the Manchester West Knights.  Junior Henri Boudreau got the win going 4.1 innings striking out three and giving up one run.  Boudreau went 3/3 with a double and 2 RBI.  Seniors Kyle Hsu and Joseph Messina went 2/3.  Joshua Pare went 1/3 with an RBI for West.
The Softball team defeated Manchester West 6-2 .Jess Hubert and Skylar Mack led the Cavaliers with two rbi's each while pitcher Ally Johnson pitched a complete game, notching 6 strikeouts and only allowing one earned run.
Games for Wednesday – May 1st :
May 1 – Wednesday :
Varsity Baseball /Softball host Bow at 4pm
Girls Tennis host Kennett at 4pm
Unified Track at Nashua South, dismissal at 1:45pm ,bus at 2pm , meet at 3pm
Jv Baseball at Bow, bus at 4pm, game at 6pm
Girls Lacrosse at ConVal,  bus at 4pm . game at 6pm
Boys Tennis at Kennett, dismissal at 12:30pm, bus at 12:45pm, match at 4pm
Reminders :
Spring Sports photo day is Thursday May 2nd after school. Teams should meet in the back lobby by 2:40pm.Order forms can be picked up in the AD office.