Games and results for: May 1-2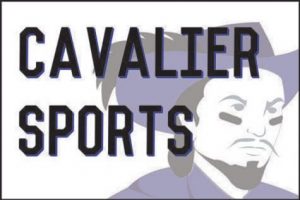 Results from Wednesday -May 1st :
The Boys Tennis team improved to 8-0 with a 7-2 win over Kennett. SIngles winners were Nic Vahe, Darius Paradie,Max Burns, Alex Anghel and Cole Lorig. Doubles winners were Paradie/Anghel and Burns/Lorig.
The Girls Lacrosse team  improved to 6-0 with a 14-4 win over Conval. Kelsey Sweeney led all scorers with 6 goals and 3 assists. Brooke Allanach scored 2 goals to help the Cavaliers secure the win. Meghan Veino, Rachel Cerato, Nicole Heiter, Paisley Broadhurst, Tasha White each added 1 goal to round out the scoring. Kaitlyn Castriotta was pulled up from the JV squad and scored her first Varsity goal.  HB dominated the midfield winning 12 draws and as a team forced 10 caused turnovers. Olivia Valentine played a great game in net with 13 saves.
The Girls Tennis team lost a very close match to Kennett, 5-4.
The Softball team mounted a 20-hit attack and came back from a 5-1 deficit to beat Bow by a score of 16-6, while notching their third straight victory. The Cavs had seven players with multiple hits. Ally Johnson hit a solo HR, Cassidy Pigott went 3-4 with a grand slam, Skylar Mack went 4-5 and Kara Lukovits went 3-5.
The Baseball team lost to Bow, 2-0, to fall to 5-1. After playing 6 scoreless innings the Falcons were able to score 2 unanswered runs in the 7th innning.
The Unified Track team  had a great meet at Nashua South! Tim Belanger, Riley Allard and Jasmine Coutermarsh had excellent times in the 100. Katelyn Heidel, heather stone and Matthew pouliot (Rachel throwing) had great distances in shot put, and brenden Nixon, thea Farrow and Alyssa Bunker had good distances in the long jump!
The Jv Baseball team lost to Bow, 6-5. Teddy Moscatelli pitched a complete game gviving up 5 hits, 6 runs and striking out 2. Quinn Connors went 2-for-4 at the plate to lead the Cavaliers. Zach Sommer, Jake Laborde also had doubles in the game.
Games for Thursday – May 2nd :
TEAM PHOTO DAY -AFTER SCHOOL AT 2:45pm
JV Baseball host Hanover at 4:30pm- Tentative
Varsity Baseball /Softball at Hanover , dismissal at 1pm , bus at 1:15pm games at 4:30pm – POSTPONED