A striking start to the softball season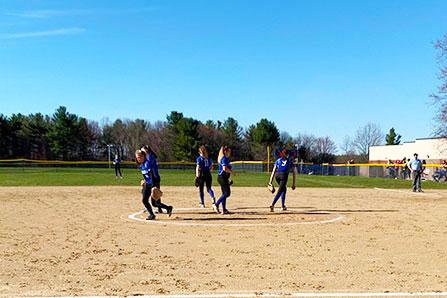 After their first, devastating, loss of the season which went 14-0 against Merrimack Valley, the HB softball team can only go up from there. With new head coach Frank Lukovits, the team is already expecting change from last year regarding the overall energy on and off the field.
For the softball girls, having a new coach is not something that's unfamiliar to them. "We've had three different coaches throughout our four years [but, like every year,] I feel like it's just going to take us a little while to get used to everything," explains Cassidy Pigott '19 and four-year varsity player. With each new coach, the girls have had to help guide them. Many of the players are fond of Coach Lukovits, like Jessica Hubert '20 who said, "the energy has been better," and [our new coach is] not as focused on the win, but if everyone is having fun, and if we win, that's just a plus."  
"We don't have captains this year, so we're all just more closely knit together as a team," says Hubert. According to Alex Plotts, instead of assigning someone the role as "captain", it's better to let someone distinguish themselves and take the role as a leader. Not choosing a captain also allows the coach to get a better understanding of their players and gives the players a chance to show their leadership skills. Plotts added that it's beneficial for a captain to have a full season to develop with the team and figure out the team dynamics, and the girls feel this is working so far.   
Incoming freshman, Ally Johnson, is a newly added pitcher to the team, "[She's] really good and we've been lacking on pitching the past few years," says Hubert. Piggott agreed, saying, "We have a strong pitcher this year" and, "I think this year's going to be a lot stronger than our past years."
Excited and hopeful for the season to continue, the HB softball team is already looking up with their first win against Sanborn which ended with a 5-1 score. This past Wednesday they also won 16-6 against Bow.