Games and results for: May 14-15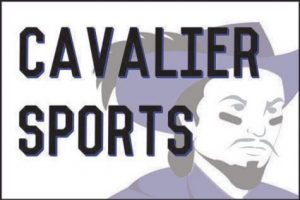 Results from Tuesday -May 14th :
The Softball team improved to 7-5 as they mounted a 15-hit attack in defeating Manchester West 14-2. The Cavaliers were led by Cassidy Pigott (3-4, dbl, triple, HR, 4 rbi's), Sofia Barassi (2-3, stolen base, 4 runs), Skylar Mack (2-3, 2 Rbi's), Delayni Kovalchek (2-4, 2 rbi's) and Jess Hubert (2-4). Ally Johnson went 2-4 at the plate while pitching a complete game, striking out
The Baseball team improved to 11-1 as they beat Manchester West 13-3 Tuesday night at Gill Stadium in Manchester.  Junior Ryan Coutu (1/2 3B 2 RBI) pitched all 5 innings for the Cavaliers striking out 4.  Senior Max Mello went 2/4 (3B 1 RBI) and Juniors Nate Sartell and Henri Boudreau each went 2/4 with Sartell driving in 2 runs.
The Unified Track team wrapped up their regular season with a meet at Keene. Tim, Jazzy and Katelyn had great 100 times, Alyssa, Tim and Matt had good long jump distances, and Brenden, Heather had great distances on shot put. We didn't have enough partners, so we made a 4 athlete relay, which had Tim, Katelyn, brenden and Jazzy. They all put in a great effort, even with the chilly temps!
Games for Wednesday – May 15th :
Boys Lacrosse at Merrimack Valley , dismissal at 1:45pm, bus at 2pm , V game at 4pm and Jv- 5:30pm
Girls Lacrosse at Coe-Brown , dismissal at 1:30pm , bus at 1:45pm , V game at 4pm and Jv at 5:30pm Baseball /Softball at Hanover/ Stevens, dismissal at 12:15pm , bus at 12:30pm ,V Baseball at 4:30pm ( Dresden Fields) and V Softball at 4:30pm( Veterans Park).
Girls Tennis at Pelham, bus at 2:45pm
Jv Baseball host Oyster River at 4:30pm
Boys Tennis host Pelham at 4pm
Jv Softball host Stevens at 4pm