Rod Rosenstein Resigns
Last Sunday, May 11, Rod J. Rosenstein officially stepped down from his position as Deputy Attorney General in the Department of Justice. Following his appointment by President Trump and subsequent Senate confirmation in April of 2017, the Republican oversaw a wide variety of federal investigations while operating the day-to-day operations of the department. Most notably, Rosenstein appointed the Special Council, Robert Mueller III, to lead the investigation into Russian interference in the 2016 election after the president's firing of James Comey in early May of 2017.
In the midst of a chaotic week with the American general public and legislative bodies enthralled by the release of the long-awaited "Mueller Report," Rosenstein hand-delivered his resignation to the White House. In the months and weeks prior to his April 29 announcement, it was apparent that the relationship between the president and Rosenstein had no longer been beneficial for either party involved. Washington observers had been anticipating the future absence of Rosenstein following his statement in March, stating his time left at the D.O.J. was only "a little longer."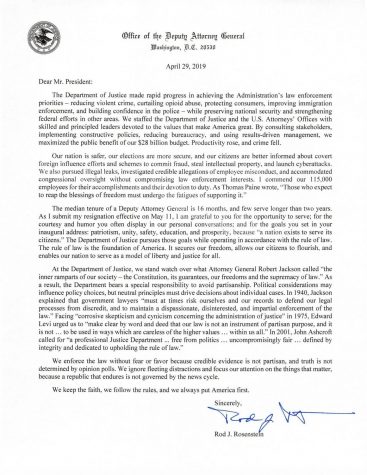 In his resignation letter, Rosenstein credited his leadership for advancing the current administration's agenda by, "reducing violent crime, curtailing opioid abuse, protecting consumers, improving immigration enforcement, and building confidence in the police—while preserving national security and strengthening federal efforts in other areas." The letter later expressed gratitude toward the president for giving him the opportunity to help head the Justice Department, and he concluded the letter with the current administration's motto: "We keep the faith, we follow the rules, we always put America first." Rosenstein didn't state the reason for his departure from the department in the letter or in the days after his announcement.
With his departure, the Department of Justice is now solely under the leadership of the Attorney General, William Barr, until a replacement for Rosenstein can be found. Barr, most recently seen in a House Judiciary Committee hearing on the contents and questions posed from the Mueller report, is considered a controversial political figure by House and Senate Democratic leadership. "He lied to Congress. He lied to Congress," said the Democratic House Speaker, Nancy Pelosi, shortly after Barr's testimony on the Mueller Report earlier this month. The D.O.J. responded to her claim via spokeswoman by stating, "Speaker Pelosi's baseless attack on the attorney general is reckless, irresponsible and false."
On the Thursday before his last weekend, a celebratory farewell ceremony was held to congratulate the now former Deputy A.G. for his achievements during his two years spent in the department.