Games and results for: May 23-24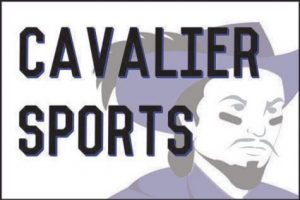 Results from Thursday -May 23rd :
The Boys Tennis team defeated Windham, 8-1, in the semi-finals of NHIAA Division II Boys Tennis Tournament. Winners in singles were Nic Vahe(8-4), Darius Paradie(8-3),Max Burns(8-6), Alex Anghel(8-6) and Cole Lorig(8-4). Doubles winners were Vahe/Lorig(9-7),, Paradie/Anghel(8-6) and Ben Zielinski/ Burns(8-6). The Cav's will now play for the State Championship on Tuesday, May 28th , at Bedford High School at 4pm against Portsmouth.
The Baseball team finished the regular season at 14-2 beating  Milford 10-8. Senior Max Mello hit a double to drive in two in the top of the seventh in a come from behind, twice, win for the Cavaliers.  Milford had tied the game in the bottom of the sixth when Joe Shepard hit a two out double driving in two to tie the game.  Grant Snyder pitched 4 innings striking out 6 and Nik Direnzo came in to save it for Hollis-Brookline.  Sophmore Brandon Hsu went 2/2 1 RBI and senior Kyle Hsu (1/3 2 RBI 3 r) and junior Nate Sartell (1/3 1 RBI) both tripled for the Cavaliers
The  Girls Lacrosse team lost a close game in overtime to Portsmouth, 7-6,to finish  Kelsey Sweeney led the team with 2 goals and 1 assist. Tasha White, Victoria Bruzik, Abbey Magnuszewski, and Paisley Broadhurst each scored 1 goal. Brooke Allanach had a great game in the midfield, picking up 4 ground balls. Reagan Berry, Caroline Smith, Nicole Heiter, and Ellie Maxwell played solid defense for HB. Olivia Valentine had a remarkable game in net, savings 15 shots.
Games for Friday – May 24th:

Softball at Milford, dismissal at 2pm, bus at 2;15pm and game at 4pm
Boys lacrosse at Windham, dismissal at 2pm , bus at 2:15pm , V-4pm Jv-5:30pm
Volleyball at Keene, dismissal at 1:15pm, bus at 1:30pm , Jv at 4pm and V at 5:15pm
Division II Track Meet at UNH at 9am, bus at 6:30am.