Film Club: Scene 1, Take 1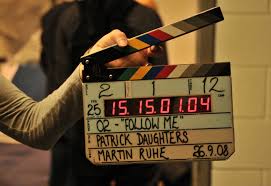 There is a new club sweeping the HB scene. No this is not just another club, this is the Hollis Brookline Film Club.
The club is a collaborative inspiration between club founder Erin Hattamer '15, and club advisor Nerissa Calo. Calo had Hattamer as a student in her second-semester film studies class last year. Hattamer had such a thrill that she felt it was necessary to create a club that brings young film enthusiasts together to talk about movies. Hattamer says "I love film and talking about film. This club gives us a chance to talk about movies in a group setting." Hattamer also added that Film Club is like a book club for movies.
The actual format of the club is that every month, they watch a movie in their own time and discuss the film at their meeting. This month, film club members watched the movie The Shining to keep up with the Halloween spirit. Along with the discussion of the film at their club meeting, they also wrote a film review of The Shining that has already been published on the CavChronline written by the film club president herself.
Film Club, even in its first year, is well on its way to becoming a staple club of HB. New members are always welcome, the date of the next meeting is undetermined but will happen in mid-November, contact Calo or Hattamer for more details.