Basque-ing in glory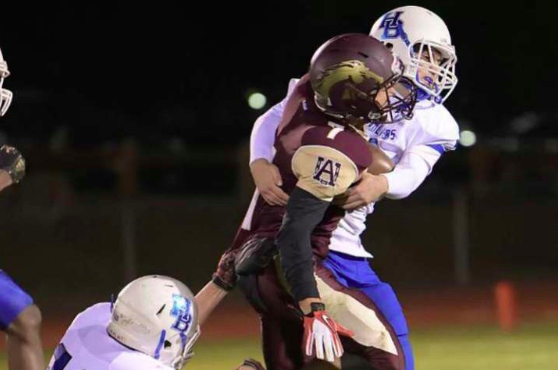 Athletics are an important part of many high schoolers' lives. Student athletes countdown the days until their respective season begins. It is very common for students to play a sport, and as all student athletes know, balancing sports and school is very demanding and sacrifices have to be made. As challenging as it is to play one varsity sport, imagine how impressive of a feat it is for a student athlete to participate in two during the same season.
Senior Andy Basque '20, has always been known as a "soccer kid" and has proved his dominance in the sport. Basque plays in a highly competitive division of club soccer during the summer, and this year marks his third year as a varsity starter at HB. He's also a team captain and has earned a lot of respect from his teammates and coaches. Aside from soccer, Basque has always been a sports enthusiast and has been playing flag football since a young age.
His tackle football career started from humble beginnings. Basque was at the football field playing a pickup touch football game with some friends when he decided to try to kick field goals; he made the first, and the next, and the next, moving the ball further and further away, until he hit two 50 yard field goals in a row. The next day, Basque was directly in contact with the Cavaliers head football coach, Chris Lones, who loved the idea of having a dominant kicker on the team. Just like that, Basque's football career was kickstarted into existence.    
During Basque's 2018-2019 campaign, he single-handedly earned 32 out of 37 extra points and thundered kickoffs to the goal line. His performances earned him recognition as one of the best kickers in the division and a spot on the first team all-state list. To put that into perspective, players who make first team all state are voted on by every coach in the division as the best player in their respective positions. He accomplished this during his first season, an accomplishment some lifelong football players have never achieved.
So far this year, Basque is 20 for 22 on extra points after the Cavaliers first four games, an even better start for him than the previous season. Last year, Basque's football and soccer seasons were cut short just hours apart as both teams were eliminated from the playoffs on the same day. Because of this, he's working even harder this year, with aspirations to"replicate the same performances, do just as well and make first team for both sports," said Basque. 
He doesn't seem to have any doubts about his decisions to play football. "Yeah I enjoy it, I talk to a lot of people, I met a lot of people, it's good to get out there and give it my all and have a great time," said Basque. Meanwhile, the football team isn't having any regrets, as senior starting wide receiver Shea Philbrook '20 explains that, "Andy has been a great addition to the team, he's a great athlete and he has a great personality."
Basque's decision to play could have been a nightmare for the soccer team because of the clear risk of injury that comes along with football, but in reality, JJ Kennedy '20 explained that the soccer team supports Basque's kicking career. "We are a tight group of kids and we love to see our teammates succeed at other activities besides soccer," said Kennedy, a fellow varsity soccer captain. 
Basque is a key player on the soccer team, and Kennedy went on to explain that his presence could be the difference between a win and a loss. 
When it comes to commitment, Basque has to make time for both sports, which sometimes has him missing a portion of soccer practice. "Although Andy is a captain and great player, Ryan (varsity soccer captain) and I are still at practice to make sure everyone is working their hardest," said Kennedy. Basque is also present for every game, keeping the team at full strength.  
"Football is a different beast, a different animal. The environment, the atmosphere, the fans. It's a lot more followed compared to soccer and there's a lot more press and media coverage in a sense over football compared to soccer, it's a different atmosphere I would say," said a compassionate Basque, who at the end of the day has a decent chance to win two championships in one season.