No good news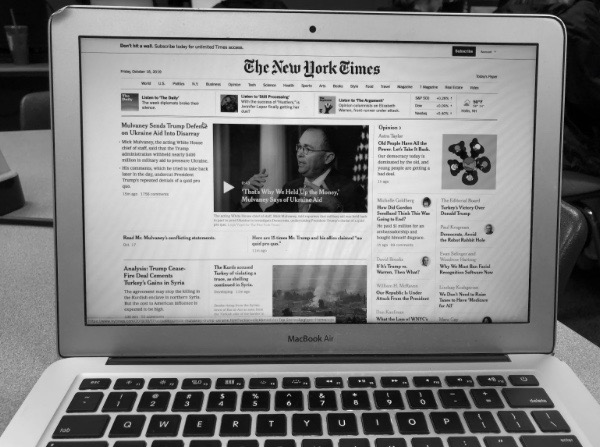 With all that goes on in the news it can be hard to see the good in the world, especially for students who know that the events that happen may affect them the most. Things like gun violence, terrorist attacks and global warming can feel like impending doom for today's teens, but how is the news really affecting them?
According to the National Institute of Mental Health, at least one-third of teens and adults are affected by anxiety, and the numbers continue to rise. 24-hour news and constant notifications on smartphones aren't helping the matter either. Being bombarded by articles that paint a picture of a world in pieces only heighten student's anxiety. Devon Kuchta '21 said, "The depressing, and sometimes terrifying, news does give me a lot of anxiety. Having a fire drill or a lockdown is anxiety producing because a lot of the news is about incidents in school or public places, which means that even in the small town of Hollis, New Hampshire something could happen." Kuchta finds current events both motivating and discouraging. She wants to make a difference in anyway she can, but sometimes the never-ending stream of negative information makes that feel impossible.
So what would happen if the media balanced the tragic with the uplifting? Emelia Mulligan '20 discussed how she wishes the news could focus on more positive things. "The news focuses on all the bad things going on in the world, which makes it difficult for me to see the good," Mulligan said. Although most of the news headlines are about the tragic events happening all over the world, that doesn't mean there aren't any good things that could be equally publicized. If next to every negative story there was a positive one to balance the effects, it could relieve some of that anxiety.
Faith Distefano '20 says everything in the news can make her worried to go into crowded places or certain events. She thinks adding more positivity and balance could be beneficial for people who feel the same way. "With all the crazy things that happen, and the bad things people do, it can feel impossible to see the good, but that doesn't mean there isn't any," Distefano said.
With today's political climate, whether left or right, it can feel like everyone is arguing. Distefano, Kuchta, and Mulligan all said that what they see in the media makes them anticipate getting to vote in the upcoming election more than ever. So if anything good is coming out of all that bad news, it's that the people it will affect most 20 years from now are looking for a way to change it.
With the effects which news has on student-based audience, what can be done to fix it? Will we wait until it gets much worse before we find a solution? Will the teens be the ones to step up and call for change? Only time will tell.