Dark Crop Dropped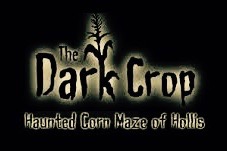 Each year, as late October approaches, the Halloween spirit comes out to play. With scary costumes, spooky decorations and everyone's favorite horror movies, the excitement is never ending. It is a time when people either want to scare or be scared and businesses often take advantage of this by investing in new scary Halloween themes.
Hollis, NH is a small town with not much going on, but every year students have the annual Dark Crop to look forward to. This locally famous event is hosted at Lavoie's Farm on Nartoff Road, put on by the farm's employees and performed by some very brave volunteers. To give an overview, after what is usually a long wait, customers are brought through an intricate corn maze while terrifying monsters pop out at every corner. To keep the customers who stand and wait for the one to two hours of entertainment, terrifying volunteers in hideous makeup will walk up and down the line, stalking their prey and building their next victim's anxiety. The actual corn maze only lasts around 10 minutes, but there is no question that every worker gives it their all to spook every last person.  
This year it was decided that the beloved "Dark Crop" wouldn't be happening. This was news that many have found disappointing. "The Dark Crop really brought out the Halloween spirit; it made the fall season really special," said former volunteer, Cooper Murray '20. 
"Participating in the Dark Crop gave me a whole different view of it because I got to see how it worked and the effort that the Hollis community put into it," said Murray.
Josie Farwell '20 has been working at Lavoie's Farm for three years now, so not having the Dark Crop was a weird change for her. "Even with the crazy long lines, rude customers, and working till 10 pm, I kind of miss it," she said. "I remember the first time I went to Dark Crop, I was only in 5th grade."
The adrenaline rush that the Dark Crop leaves its victims with provides some simply unforgettable experiences."I went with my friends and we couldn't stop laughing the whole time, especially when they chased us out of [the maze] with a chainsaw," said Farwell '20.
 "It was always worth it. I think it was really good and always well done especially the chainsaw guy at the end was really good," said the event's three-year veteran, A.J. Johnson '20.
Because the Dark Crop is a separate business from Lavoie's Farm, the Lavoie family had no say in whether or not the spooky event would occur this year. Although it brought in some revenue for the farm (people buying their produce while buying tickets), there was also speculation regarding labor laws. Student employees under 18 can only work three hours after school, and it is believed that working the Dark Crop would result in an accidental violation of the law. Which is just one idea as to why the event will not be happening this year.  
On a good note, we can only hope, this year off will give Lavoie's Farm some well deserved rest and time to rethink and revamp the maze for next year.
As we reflect on the town's memories of the haunted corn maze, it's obvious that the Dark Crop will be sorely missed by the whole community.