Preseason Puck
All athletes know how important the preseason is to the success of their regular season. Countless hours in the gym and extra work before the season begins can give teams an advantage, and the edge that sets teams apart when the lights are brightest and everything is on the line.
On Oct. 12, the Hollis-Brookline-Derryfield School Ice Hockey team held their first captain's practice to mark the start of their preseason. These practices are now being held every other Sunday at Skate 3 in Tyngsborough, MA, and will prove to be beneficial once the season comes around. With high hopes following their first playoff appearance in ten years, the Warriors are making sure to put in the extra hours before their season begins.
At the captain's practices, the players have already begun to put in some real work in order to gain an extra edge for the regular season. Conditioning, working on their game and of course building some "chemy" with each other are all major factors in how that advantage can be built. 
"We usually start off with some skating drills, we do some shooting drills and then we go into scrimmages and see how some of the freshmen play with the older kids, how they work together and see what sort of line strategies we can do with them," said Paul Vachon '22.
These practices are also all about creating bonds and welcoming new players, specifically with the Freshmen. Sophomore Paul Vachon knows all about how important these captain's practices are to the introduction of the up and coming players. A newcomer last year, Paul Vachon came into the season a little nervous, but by the end of the regular season, he found himself consistently playing on the first or second forward lines. Vachon credits some of his immense success to the captain's practices he attended before his first season and said, "They helped a lot, and a lot of my teammates and some of the seniors like Alec MacEachen '19 and Dylan Terenzoni '19 were good leaders. It was a very calm, not hostile place, which is good for the freshman to come in feeling welcome." Now, going into his sophomore season, Paul Vachon will take on a bigger role, but continues to work hard in the preseason. "It's different this year because I know what to expect and we have higher expectations. Last year I didn't really know what I was coming into and it turned out to be a good time," said Vachon.
Freshman attendance is crucial to these practices, as they are a perfect opportunity to introduce them to the team and the commitment that comes with it. Chris Slater '20 is heading into his fourth and final season with the team, and has picked up an increased leadership role this year. Slater, likely a captain this season, has taken on the responsibility of helping out these first-year players and giving them advice before the season begins. "You really want to get acclimated with the whole program before you really get into it. Before you get into the 5 a.m. practices, you wanna see if you really like the kids on the team, make those bonds, and figure out rides to those early practices," said Slater. 
This year, Freshman Jesse Gertz '23 is experiencing first hand the importance of these preseason practices and how they help the new recruits. Gertz has attended a majority of the captain's practices and detailed how they've helped him get ready for the upcoming season. "They [the captain's practices] helped me get to know all the upperclassmen and gave me an idea of how the team plays. It also helped me to get used to what the practices will be like," said Gertz. 
Paul Vachon detailed his praise for the rookies, like Gertz, who are coming onto a team with high expectations and said, "It's important to the team with just getting to know the freshmen and getting back into the swing of things. We had a good year last year, we made it to the playoffs for the first time in I think ten years, and we want to keep that going, and I think the freshmen that have come up so far are pretty promising."
Chemistry is important in every sport, but in hockey, it's everything. All five players need to be on the same page at every moment in order to successfully move the puck and ultimately win games. These practices are allowing the team to build comradery early, which will help them achieve their goals for the 2019-20 hockey season. "I want to get everyone involved, and this year if we want to be successful we need production from all three lines," said Chris Slater. "To do that, we gotta build some chemistry and get some shots on net."
The entire hockey team is on the same page when it comes to the prospects of their upcoming season–make a deep playoff run. The expectations this year are higher than ever for the HBDS Warriors, as they look to as they improve on last season's 9-9 record under their new head coach Joel Sanborn. Paul Vachon put it best as he said, "We hope to have a deep playoff run at the least. I think we have the ability. Last year we fought through some adversity as we overcame some injuries and still made it to the playoffs. I think we've added some good depth this year, and I'm thinking that with that depth, we can make it deeper and hopefully compete come March."
About the Contributor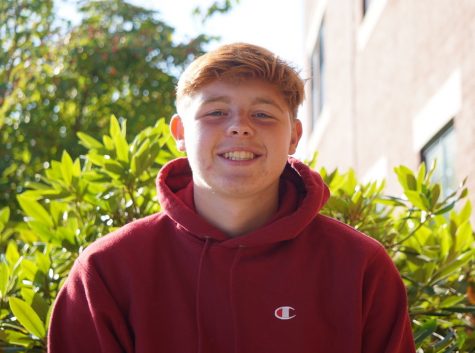 TJ McKenna, Co-Sports Editor
TJ McKenna '20 is a senior at Hollis Brookline High School and a writer for the CavChron. While he's not writing, TJ plays for the varsity soccer and...