NFL Awards Preview
Hang on for a minute...we're trying to find some more stories you might like.
On Feb. 1, 2020, Steve Harvey will host the 2019-2020 NFL Honors in Miami, FL, where another great season of football will be celebrated. This past season was one of the most entertaining in years. Records were broken, dynasties fell, and many new stars began to shine. It is at this event where, for one last time, football lovers can look back at the best plays, players, games and moments of such a spectacular season.
The NFL Honors will host all of the NFL's greatest players, coaches, general managers, owners and more on a night where the best of the best will be awarded for their successful seasons. This year, 20 awards will be handed out to commemorate high school coaches all the way up to NFL superstars. The awards for this year are:
AP Most Valuable Player presented by Pizza Hut 

Walter Payton NFL Man of the Year presented by Nationwide 

AP Coach of the Year 

AP Comeback Player of the Year presented by Castrol EDGE 

AP Offensive Player of the Year 

AP Defensive Player of the Year 

AP Offensive Rookie of the Year presented by Oakley 

AP Defensive Rookie of the Year 

Bridgestone Clutch Performance Play of the Year 

FedEx Air & Ground Players of the Year 

Salute To Service Award presented by USAA 

Courtyard Unstoppable Performance of the Year 

Deacon Jones Award 

Art Rooney Sportsmanship Award 

Don Shula High School Coach of the Year 

AP Assistant Coach of the Year 

Game Changer Award 

Anything But Ordinary Player of the Year presented by Microsoft Surface 

Bud Light Celly of the Year 

Daily

Fantasy

Player of the Year presented by DraftKings
After watching hours upon hours of football this year, here are my predictions for the winners of the most prestigious awards that will be handed out this year.
Most Valuable Player – Lamar Jackson, QB, Baltimore Ravens
Of all the awards that will be decided before the night of the NFL Honors, this one should be the easiest choice. In his sophomore season in the NFL, Lamar Jackson did things no other quarterback has ever done. Jackson threw for 3,127 passing yards and ran for 1,206 rushing yards– as a quarterback. On top of those crazy stats, Jackson also tossed a massive 36 touchdowns to just 6 interceptions. 
In just his second season in the NFL, Jackson is already breaking records. In week 15 of this NFL season, he surpassed the legendary Michael Vick's single season rushing record of 1,039 yards set all the way back in 2006. "I'm all in on Lamar Jackson. His talent is something we haven't seen in a long time, and he carries a chip on his shoulder from all of the criticism he faced coming into the league. It makes him easy to root for, not to mention his consistent highlights and fantastic playmaking ability," said NFL fan Mark Labak '19.
Previously to being drafted into the NFL, Jackson was criticized for his collegiate playing style, and was told he should change his position to either running back or wide receiver if he wants to have a successful career. Jackson put all of this behind him, as he's proven himself to be a top quarterback in the NFL, and perhaps the biggest playmaking threat the NFL has seen in years. 
"Lamar Jackson should be the MVP and he should be the clear winner," said Andy Basque '20, "He was what made the ravens offense go and he caused many defensive mismatches for opposing defenses. He single handedly changed the games that he played in. He should be the clear winner because he put up unprecedented numbers and willed his team to a 14-2 record."
On top of all of his crazy statistical season, Jackson proved himself as a leader for the Baltimore Ravens. Jackson, just 23 years old, led the Ravens to the best regular season record in the NFL at 14-2 and the number one seed in the AFC. For such a young player to perform at such a high level is almost unheard of in the NFL, so Jackson will for sure have more to show for years to come.
Coach of the Year – Mike Vrabel
After a rocky 2-4 start to the 2019-2020 NFL season, Mike Vrabel had a decision to make. In 2015, the Titans selected Oregon quarterback Marcus Mariota with the second overall pick, expecting him to turn into their franchise quarterback, all didn't go as planned though. Mariota battled injuries, inconsistency and inaccuracy through his first few NFL seasons, and eventually was benched by Coach Vrabel for the recently acquired Ryan Tannehill from the Miami Dolphins. 
Tannehill didn't find much success in Miami, but besides legend Dan Marino, who has? Tannehill was traded by the Dolphins to Tennessee in the offseason, after the team and the city had lost faith in him, but it would prove to be a big mistake. 
Throughout the course of the season, Vrabel's choice proved to be a good one, as the Titans finished the season with a 9-7 record, clinching the sixth and final seed for the playoffs. With the help of running back Derrick Henry and the emergence of Ryan Tannehill, Vrabel was able to completely turn around an abysmal start to the season, and eventually led his team to the playoffs and the AFC championship. 
Player management is one of the most underrated skills that the best NFL coaches have, and Vrabel displayed his masterfully. Coach Vrabel stuck to his gameplan, even if it meant winning close games and quite boring ones. He rarely threw the ball, but made sure the running game was always working. "He was able to figure out how his team worked and coached them into a playoff team and that really showed once they entered the playoffs," said Basque.
Offensive Player of the Year – Michael Thomas, WR, New Orleans Saints
You really "can't guard Mike." Receiver Michael Thomas lives by his motto and proved it true this year. Thomas finished the season with 149 catches for 1,725 yards and nine touchdowns. His 149 catches broke Marvin Harrison's record of 143 catches, proving Thomas to be the best offensive player in the NFL this season. 
There is much debate over whether Michael Thomas or Carolina Panthers running back Christian McCaffery should win the award. McCaffery, aka Run CMC, became just the third player in NFL history to have a season in which he accumulated over 1,000 rushing yards and 1,000 receiving yards. On top of his record breaking yardage, CMC also recorded 19 touchdowns this season. "Michael Thomas is one of my favorites in the league. He's consistently backpacked my fantasy team in the past and broke the single season reception record this year which is crazy," said Labak, "However, Christian McCaffrey gets my vote for the 1,000 1,000 season. The only reason the panthers won any games was CMC, and it's especially impressive considering his age."
Although McCaffery had an amazing season, my vote has to go to Michael Thomas due to his team's success. Much of McCaffery's ridiculous yardage is due in part to his team falling behind in games and feeding him the ball in order to get back in the game. Thomas, however, was consistent all year and racked up yardage in close games, blowout wins, and blowout losses.
Defensive Player of the Year – Stephon Gilmore, CB, New England Patriots 
Stephon Gilmore was hands down the best defensive player in the NFL this year. Although the Patriots season didn't end as their fans had hoped it would, Gilmore led the Patriots to perhaps the best defensive starts to a season in the history of the NFL. 
Gilmore finished the season tied for the league lead in interceptions with six, accompanied with two pick-sixes. He constantly locked down number one receivers throughout the season, as he showed in week 12 against the Dallas Cowboys. "Stephon Gilmore is the defensive player of the year," said Aidan Dufoe '22, "His game against Amari Cooper proved it in my opinion, but what factors in most was that he had more touchdowns than he allowed." In this game, Gilmore held star wideout Amari Cooper to zero catches, helping his struggling offense win the game. 
Be sure to tune into FOX on Feb. 1 at 8pm to see who will win all twenty awards.
About the Contributors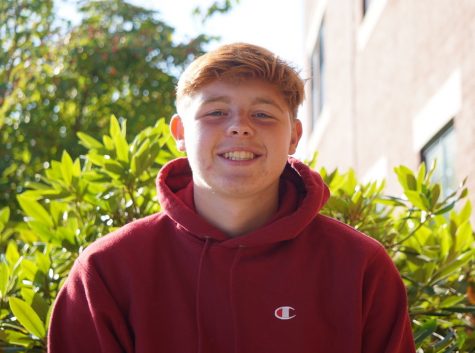 TJ McKenna, Co-Sports Editor
TJ McKenna '20 is a senior at Hollis Brookline High School and a writer for the CavChron. While he's not writing, TJ plays for the varsity soccer and...