Don't panic it's organic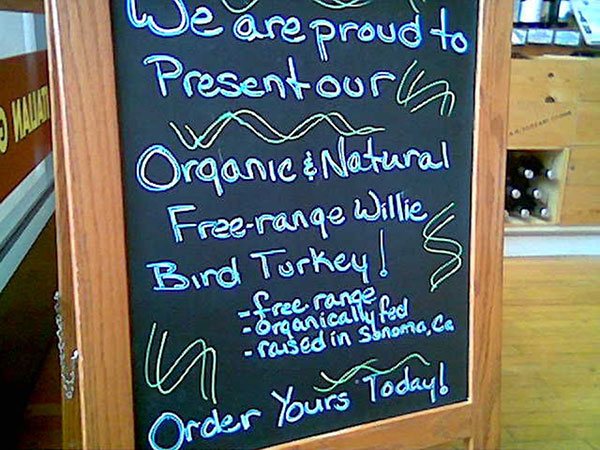 Eating organically is beginning to become more popular as more light is shone upon unhealthy foods that aren't organic. It is important to eat organically for many different reasons including the effect on the human body and the environment. Natural and organic foods are foods that follow a strict process by certified suppliers. A farmer cannot just say his food is organic because he didn't use pesticides on his fruit. Organic foods are sold in grocery stores as well as farms. Often times the taste is better, there are no harmful pesticides, and it can be more nutritious. Organic meats are better, because the animals are grass fed and are able to freely roam during their lifetime, making them happy and healthy.
With natural and organic foods on the rise, it will be easy to have an Organic Thanksgiving. It is the best time to cherish the tradition of a healthy and all-natural feast. Don't worry, having an organic Thanksgiving doesn't automatically mean the ham and turkey have to be replaced by tofu and beans. Instead of going to the grocery store to buy foods, go to the local farm. Knowing the farmer is an important factor in eating organically. Many farms, including Lull Farm, now have signs up that Thanksgiving is approaching, encouraging shoppers to buy organic turkeys. Shelves are covered with foods stamped with USDA Organic food certifications, meaning they are 100% organic.
Try these yummy and organic recipes this Thanksgiving:
Roast Organic Turkey
http://www.ivillage.com/roast-organic-turkey-0/3-r-60841
Herb Corn Beef Stuffing, Buttermilk Mashed Potatoes, and Crock Pot Pea Soup
http://www.organicliaison.com/blog/2011/11/21/thanksgiving-with-a-side-of-healthy-recipes/
Organic Pumpkin Pie:
http://www.care2.com/greenliving/organic-pumpkin-pie-recipe.html