Mookie Betts and David Price trade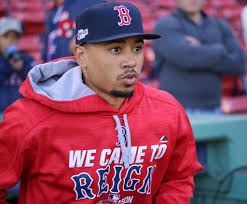 On Feb. 11, 2020, Mookie Betts and David Price were traded from the Boston Red Sox to the Los Angeles Dodgers. Betts wanted a 400 million dollar contract and Price was taking up too much cap space, which resulted in this blockbuster trade between the Red Sox and Dodgers.
The Dodgers currently have the last 6 out of 15 MVPs on their team and are one of the most stacked and overpowered teams baseball has seen in the last couple of decades. "We're stacked… we've got Betts and Bellinger, it'll be good," said Katherine Henderson, a Social Studies teacher at Hollis-Brookline and a lifelong Dodgers fan. Betts was the 2018 MVP, the same year he won a World Series against the Dodgers, and Bellinger won the 2019 MVP. The Dodgers also have a strong pitching staff with Walker Buehler, Clayton Kershaw and David Price. They  have arguably the best pitching rotation and starting 9 in baseball, and it could be the Dodger's year to win it all. 
Now, just because on paper a team has an overpowered lineup, anything can happen. "It's Major League Baseball, every year one team is overpowered; you could argue the Astros were to a degree last year, but they still didn't win," said Trevor Duval, a Social Studies teacher and baseball coach at Hollis Brookline. Last year the Houston Astros were heavy favorites to win the World Series, and on paper they were the best team, but in the end, they couldn't get the job done. 
For the Red Sox, they lost their best player, and one of their better pitchers. Betts was the future for the Red Sox; he helped carry Boston to a World Series in 2018, and almost again in 2017. David Price, on the other hand, posted a 4.29 ERA in 2019, and is on a 210 million dollar contract. Getting rid of Price could benefit Boston in the long run, as it frees up the salary cap and gives Boston an opportunity to sign someone this off-season. "This hurts the team of course, but it opens a door for free agency and a new start for the Red Sox," said Henri Boudreau '20, a captain for the varsity baseball team. The Red Sox need to find someone this offseason to build around and with lots of young talent, all it could take is an all star veteran to lead the team. With freeing up cap space, it would be smart to find someone new this off-season.
This winter, it came out that the Houston Astros cheated from 2017-2019. They knew what pitch was coming by relaying signs or banging on trash cans. That said, this upcoming season will be tough for the Astros, as they now have a target on their back. The Red Sox could also have a tough year too, losing their best players. So does this make the American League less competitive? "It's Baseball, you have trades, you have players that get hot, and you have players on other teams that get cold… instead of having one or two really cold teams, you'll have a lot of good teams," said Duval. This year could be more competitive because of the downfall of the Astros and Red Sox. 
In 2017 and 2018 the Dodgers made appearances in the World Series, but failed to win either time. With this blockbuster trade made between LA and Boston, did the Dodgers just find the final piece to the puzzle? "2020 looks good… this decade looks good, this could be our decade," said Henderson. 
The Dodgers have every piece of the puzzle; their biggest issue will be if they can play together. Baseball is a team game, even the teams with the best players don't win because they don't know how to play with each other.