Sleep in Heavenly Peace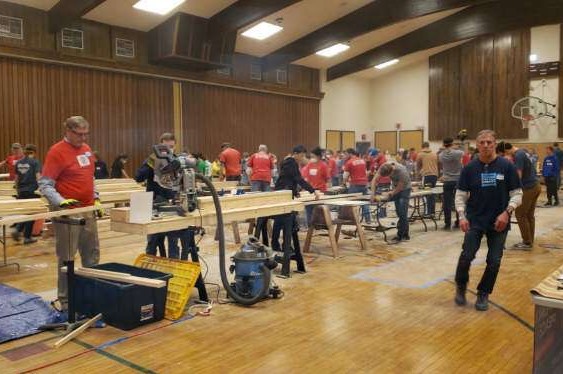 Nothing beats the feeling of crashing into your own bed after a long day of school. For most here at Hollis Brookline High School, enjoying a nice, long nap in our warm, comfortable bed is something we take for granted. Unfortunately, many children across the country have no such luxury and must resort to couches, piles of clothes or simply the floor. That's where Sleep in Heavenly Peace steps in. They are a "group of volunteers dedicated to building, assembling and delivering top-notch bunk beds to children and families in need" according to their mission statement.
Sleep in Heavenly Peace fills a niche role around the country. Unlike other organizations that supply food or shelter, their goal is to give kids the joy of finally having a place to sleep. "The bottom line (and good news) is that there are many agencies servicing the basic needs of families in need, but not all of their needs," said David Sodders, Hillsborough County's Sleep in Heavenly Peace Chapter President. Sodders, who joined in January of 2019, realized that the demands for beds in New Hampshire were unmet. Studies done by Sleep in Heavenly Peace showed that 2-3% of children across the country did not have a bed to sleep in, translating to roughly 2,000 kids in Hillsborough County.
Unfortunately, this lack of sleep is having a real impact on these children. The Center for Disease control cites lack of sleep as the cause for various health problems, ranging from obesity to physical problems and behavioral issues. During this crucial time period for development in young children, it is important that these children have all of the necessary components for a fully healthy upbringing, beds included. "Getting these kids into beds of their own will result in them being healthier, performing better in school, making stronger relationships, and having higher self-esteem," said Sodders. A good night's sleep is crucial for children of all ages, and adequate beds aid in this development.
The process in which Sleep in Heavenly Peace builds bunk beds also adds to the positivity of the organization. After purchasing the necessary materials through donated money, as well as  materials donated directly to them, they host "Build Days,"four hour long sessions in which a group of volunteers work together to build the bunk beds. "It was a super cool experience. They bought all the materials, and it wasn't just buy-bunk-beds-from-Ikea-and-assemble-them, it was we're cutting the wood, nailing it all together, and staining it ourselves," said Kathryn Fry '20, member of Senior Student Council and participant in the most recent Build Day. "It was a really positive experience knowing that what we were doing was going to benefit kids locally."
The Hillsborough County Chapter was officially launched in June of 2019, and since then, they have built 90 beds, with 52 of those beds being delivered to kids in need (SHP). "Our 2020 objective is to deliver at least 200 beds to kids in need," said Sodders. Nationwide, they have delivered over 30,000 beds to kids around the country. They have grown substantially through the past couple of years, mostly due to the widespread coverage that the organization has received over the last year, highlighted by the founder being honored as one of CNN's Hero's Finalists in 2018. 
Led by their motto of "No kid in our town sleeps on the floor," Sleep in Heavenly Peace is looking to give back to their communities and help children in need. More information on upcoming Build Days and what you can do to help can be found on their website.