How COVID 19 is affecting Hollis Brookline High School Athletics & Extracurriculars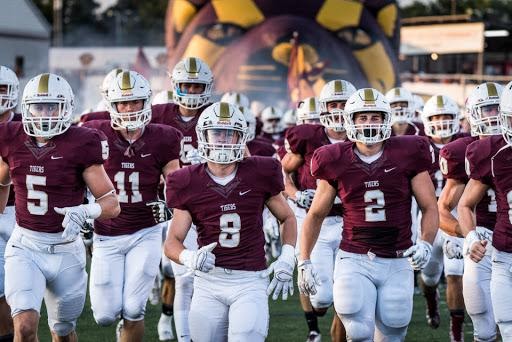 Going into the 2020 football season, the Hollis-Brookline Cavaliers have high hopes of repeating another state championship season. However, this season is different than any other in the program's history. The Cavaliers main competitors such as Sougheagan and Plymouth won't be the only things standing in their way. They also have to "compete" with a virus that has been taking other neighboring athletic programs out of action.
Currently, the HB football program has had three games against Souhegan High School, Milford High School, and Sanborn Regional High School. They have a record of 1-2 and still have hopes of competing for a high seeded playoff spot. Unfortunately, the restrictions put in place because of Covid have made it exceedingly difficult for every fall sports program to execute and play to the best of their "abilities".
"It Puts us in a tough situation because we have to get more done in less time. We had to shorten up things in practice that we ordinarily would do and take things out of practice that we ordinarily would do," said head football coach Chris Lones about reduced practice time. This in turn makes it much harder for all fall sports programs such as football to be prepared and confident going into game situations. 
However, while it has made the jobs of athletic directors difficult, they are fortunate and grateful that their programs can compete during this season. "To have some sort of a season is better than having no season, so based on the restriction we have everyone is doing their best to follow them. Everyone is happy that we have a season," said Co-Athletic Director When it comes to scheduling for competitions and games "it has been difficult trying to make a schedule with schools that have been following similar guidelines like us for their students," said Rupp. 
COVID 19 affects every school, along with their staff, students and administrators. Principle Richard Barnes of Hollis Brookline High School is one of many whose job has been affected. "It is critical and the most important thing that we follow the restrictions being put in place. Anything we do reduces our risk, even if it's by one percent." Barnes believes that the sports most affected will be: "Definitely football, basketball, and all close contact sports."
 Sports and athletics are important  to the Hollis Brookline community, "Sports and extracurriculars are equally as important as academics. Having athletics means that we have a shred of more normalcy than some other places. The more we can make things feel normal the better and the longer we can do it the better. Following the rules and wearing masks are very important for all programs to have a season and compete," said Barnes.
Despite all this "noise" that every fall sports cavalier program is dealing with because of COVID-19, Head Football Coach Chris Lones had to say, "Anything is possible . . . it took a lot of work, good fortune, staying healthy which we weren't after week one against Souhegan. But those are the things that have to happen . . . we get those kids back and we get healthy, then absolutely we can make a run. We have more than enough talent to do it."