The Celtic's Fall Short In a Disappointing Fashion In Game 6 To the Miami Heat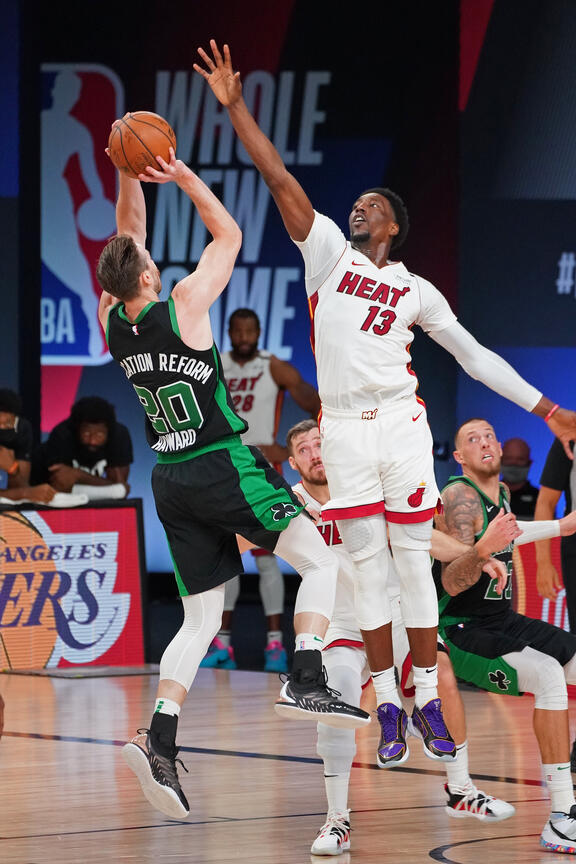 Tyler Hutchinson, Staff Writer
October 20, 2020
With the Boston Celtics losing game 6 of the Eastern Conference Finals in Orlando,. tThe Celtics playoff run has officially been cut short. Despite the Celtics ripping their way through the bottom half of the playoffs this year, their efforts weren't enough to beat the red hot Miami Heat, who's outstanding performance is worthy of a shot to win it all.
For many fans, the Celtic's season ended in disappointment because of the underwhelming statistical performances of the big three:; Jayson Tatum, Jaylen Brown, and Kemba Walker. Specifically, Kemba Walker strikes a chord for some because of how underwhelming statistically he performed in not only the series versus Miami, but the postseason all together, sScoring 0.8 points less on average in the playoffs despite playing more by an average of over 5 minutes, according to the National Basketball Association (NBA). 
"Kemba Walker is a great player… But I believe he had a lot of off days this postseason," said Meghan Peterson, lifelong Celtics fan. Despite this sudden drop off in performance, there'sthey're's a positive to this story. From the day Kemba was traded to the Celtics in July of last year, Kemba Walker's passion towards the basketball club has been crystal clear. Just last year, Kemba stated, "It got real, I can finally be a Celtic." That work ethic has been imminent so far in his first year in Boston.
One attributed factor fans can agree on as to why the season ended without a ring is the lack of big man. "Our biggest problem is the lack of a solid big man. Kanter won't cut it,t." saidSays Lawson Bill, diehard Celtic's fan. Three years ago in 2017, the Celtics acquired German center Daniel Theis, who has since averaged 7.2 points, 6.1 rebounds, 1.3 assists, and 1.5 rebounds per game (Fox Sports). 
Compared to other team's statistics,; even teams' eliminated before the Celtics, a lack of a statistical presence of a center for other teams isn't an issue. For eExample, the Miami Heat averaged .4 more blocks on average than the Celtics did in that series. (Basketball Reference).
The remarkable rebuilding process the Miami Heat endured to become one of the most talented teams in the NBA is not to be overlooked, however. The Heat's recent draft picks Tyler Herro, Bam Adebayo, and Duncan Robinson, propelled them into the destructive firing squad that they are today. These rookies combined for a total of over 45 points per game (ESPN), leaving a tremendous mark on the prosperity of the Miami Heat in the series. 
To add on, the presence of veteran stars Jimmy Butler and Andre Iguodala fused their advantage of experience on-to the rookies of Miami, transforming Miami into the fine tuned machine reflected in the NBA Bubble.
The NBA Bubble was designed for isolation, keeping COVID out and healthy players in. An unintentional side effect of the Bubble was the lack of emotional support from family and friends athletes were accustomed to before COVID-19 was a factor. "With the climate we live in today.. the stress of not seeing loved ones I think put too much on their shoulders,"s. Said Hailey Tiner, avid Celtics fan.  
This team has come a long way in terms of talent, and with the apex of starpower finally in reach, they fell a little bit short of winning it all. On the surface, it may seem frustrating that the Celtic's were two games away from competing for a national championship. But, after the storm clears, however, the question of "What's next for this team?" for fans and players is even more exciting to ask.