Women's March Madness Predictions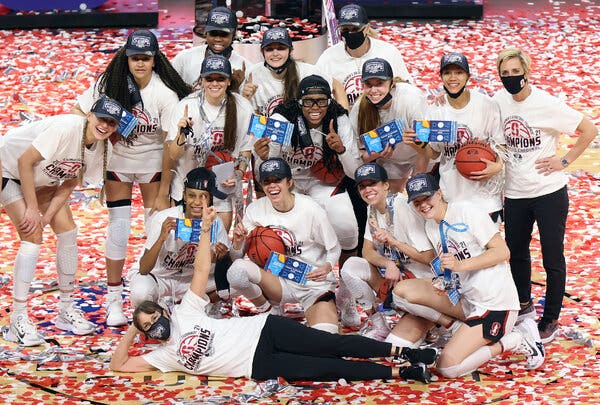 After a difficult  regular season filled with Covid restrictions, hard schedules, and heightened competition, 64 teams will face off in a March Madness bracket like no other. Fans like Joe O'Reilly '21 are excited to get the tournament underway. "I'm super excited for it. I think that Alabama is going to upset a lot of teams this year, and I can't wait to watch the games." Here I will help you predict the winners, biggest bracket busters, and potential upsets.
Teams to watch for:
Many people have high hopes on all four 1 seed teams: UConn, Stanford, NC State, and South Carolina. However, most analysts, including myself, only see two real threats to win it all, UConn and Stanford. UConn comes in as a collegiate powerhouse this year. Led by freshman guard Paige Beuckers, who averaged 19.7 points and 6.1 assists per game during the regular season. The Huskies finished 24-1 this year under the coaching of UConn legend Geno Auriemma. 
Probably the only thing stopping this team from making a run would be the loss of Coach Auriemma due to a positive test of Covid 19. 
Stanford also comes into the tournament ready to make some noise in their best chance at a national title since 1992. The Cardinals were 25-2 in the regular season, as senior guard Kiana Williams has been a spark offensively. "Stanford is my sleeper 1 seed," said senior Quinn Connors, "I like the depth of their team and the two guards can score easily." Connors is referring to sophomore guard Haley Jones who gives the Cardinals a great one-two punch in the backcourt. This team has weapons all over the court and is a great pick to win it all. 
Upset in the first round:
Georgia Tech (No. 5) will have their hands filled with Stephen F. Austin (No. 12) which is looking to be one of the best picks for an upset in the first round. Austin led the Southland Conference in forcing steals and turnovers. They are also top 3 in effective field goal percentage and fifth in defensive rating, with a strong offensive and defensive presence, Austin is ready to make a run.
Another matchup to look at would be in the Michigan (No. 6) versus Florida Golf Coast (No. 11) game. Gulf Coast makes more three pointers than anyone in the tournament. This could be very good for Florida, however teams who live and die by the three point line are tough teams to pick to go far in this tournament, as one bad game from behind the line can send the team back home fast. Matt Kelley '21, an avid college basketball fan, gave his own opinion on three point shooting teams saying, "I feel like they don't end up as far as they could, although in the event of close games they have a good chance of hitting that final shot. But when they start playing the top teams who can guard that shot, they don't stand a chance."
My pick to win:
There are a lot of talented teams to win the tournament this year. You could go with the team with the best record in UConn with freshman phenom Paige Beuckers. Or go for a team looking to make some noise like No. 2 Maryland, who finished the season 24-2. Or you could take the dangerous approach, in Florida Gulf Coast's live and die approach. However, I'm going with the number one seed Stanford. The Cardinals are a complete team offensively and defensively, with the ability to control rebounds and hit shots from all over the court. The tandem pair of scorers in Kiana Williams and Haley Jones are ready to make a big run in this tournament, and I believe the Cardinals will be ready to fight with their best chance to win since 1992.