A Battle On and Off the Ice
If you had told me before this year that a team that legitimately went through a season and finished with a record of 2 wins, 1 loss, and 1 tie and was in the finals, I would've said you were nuts. However, this is 2021. And you bet it happened.
It started off when the Division III hockey schedule was already shortened and restructured to restrict contact between teams, as most high school sports in New Hampshire had already been executing since the fall. Most of the players were thrilled to have the opportunity to play against other teams within the state guidelines. "The personal high point for me was just being lucky enough to have a season of hockey my senior year, especially since it had been up in the air if we could even have a season," said Michael McLaughlin '21, who has been playing for the team since his freshman year.  
Most of the teams in Division III have joint programs with another school, and Hollis Brookline has been partnered with Derryfield as the Warriors for their duration in the division. When it was all said and done, all teams were set to play 10 or more games against three opponents relative to each school's distance to one another and what rink each team played their games.
To start, the season was going smoothly. The Warriors picked up their first win of the season against Goffstown, a Division II team and a tough adversary;the final score was 5-3. That week, the team also played joint team Sanborn-Epping, and finished in a draw. But then, the bad news  hit. A member of the team had tested positive for COVID-19, forcing the team to have to quarantine for the foreseeable future.
Sadly, the outbreak had caused a heavy toll on the length of the schedule. The multiple weeks without a practice or game against any team were not easy for the older members of the team. "I was hoping we could avoid [the virus], but I knew it was possible that this would happen. It was not ideal but we did the 10 [required] days, knowing that afterwards we were going to have to get right down to it," said veteran player Sal Vella '21. 
Past those ten days, the team underwent conditioning before getting back on the ice, and unfortunately in total, missed 5 potential games due to quarantining. "I was more upset about [those missed games] than the Covid outbreak itself," said returning starter and senior class president Joey Oetjens '21.
Alas, the team played two more games after bouncing back from a wild change of events, finishing with a record of 2-1-1. The year prior, HB-Derryfield racked up over 13 wins in a single season. To say that this season was a little different for the returning seniors of the team would be a complete understatement. A strange conclusion, but the team was far from done.
When the playoffs began, the team was off to a surprising start after having a fraction of playing time since the year before, and won the first two rounds of the playoffs. A consensus of why the team was generating success was from key underclassmen who had stepped up and shined in intense moments. "It's hard to pick one player because without any person on the team we probably wouldn't have done what we were able to do. If I had to pick one though, I would say Jesse Gertz. It was his second season, but was scoring and setting up chances everywhere," said Vella. 
Gertz had ended up becoming a key role player in the team's defiant playoff run. "He really brought a lot of intensity and energy to the game whenever he was on the ice," said Mclaughlin.
When the team advanced to the semi-final round, they were matched up against Kennett, a dominating force that had finished their season with five straight wins. A long, hard fought battle between the two teams lasted past the first three periods of regulation time. In overtime, Jacob Roy '22 had what ended up being the most important goal of the season, Hollis Brookline-Derryfield had clinched their spot in the playoffs. "My freshman year we went 2-16 so it was really cool for me to have been able to turn around the program like that in my four years," stated Oetjens, who had gone through the many roster changes leading up to this final season for the class of '21.
Despite the improbable run, the talented HB-Derryfield Warriors had managed to pull off, they were handed defeat in the finals to Berlin Gorham, who had only lost two games in the regular season after playing a full schedule. Who knows, with a full schedule under their belt, the Covid-shaken team might have had the upper hand in that playoff matchup. After such a wild year for sports, it's clear that any outcome is possible, like that a hockey team with only four regular season games can make a run at the championships.
About the Contributor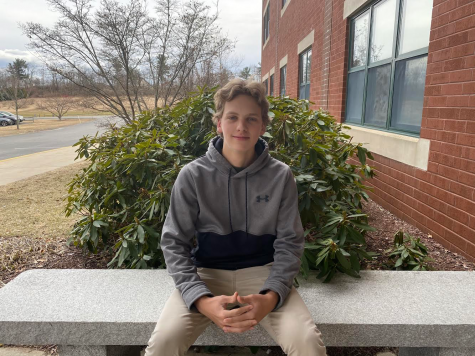 Dan Aulbach, Staff Writer
Dan Aulbach is a junior at Hollis-Brookline and is a newcomer to Cavchron this year. Aulbach is currently a representative on the Class of 2021 student...