How HBHS is Raising Awareness for Mental Health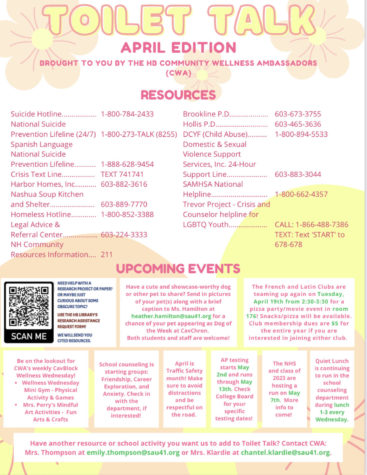 Mental health is an epidemic. Some people are more open with their journey, and others feel it is safer to hide their struggles. For teens, trying to deal with mental health challenges can be difficult in the aftermath of the pandemic. Schools are trying to raise awareness for mental health. Community Wellness Ambassadors (CWA) was created at Hollis Brookline High School to create a safe space for students. "The CWA's main goal is connections, as well as having student mentors that are showing just overall wellness," said Chantel Klardie, head of the HBHS School Counseling department, and co-founder of CWA. 
The CWA was created to make the school a safe place for all students. "In thinking of that overall wellness model, we wanted to include mental health, physical health, and connections between students. One of the number one things that is preventative to mental health concerns is connection and having those connections," said Klardie. Having other students be mentors gives those students who need it people to go to when they need someone to talk to. 
Some things the CWA is doing this year to promote wellness are things like Wellness Wednesday CavBlocks, Toilet Talk, and more. "This year we've kind of been also going into different things for mental breaks or positive thinking. We have different groups that we run for Wellness Wednesday during Cavblock. We have the mini-gym activities where we want to have one cohesive game where everyone can participate together because I know sometimes it can get kind of cliquey where you play with your friends, so we want to promote everyone doing it together and promote that connection idea," said Emily Thompson, HBHS Guidance Counselor and CWA Advisor. There is also Mindfulness Art in Mrs. Perry's CavBlock. 
The CWA doesn't just consist of teachers and staff members in the building, but students as well. "The CWA, right now, we usually have teachers outline or counselors outline people who are really good positive peer role models, so they have kind of been identified from staff. There has been a couple of students that reached out to a teacher to say 'would you recommend me for the CWA' so I think going through a teacher that's close with them and knows a lot about them is a great way and they can just email one of us in the counseling department, preferably Emily or myself, because we are the head of the CWA and just let us know why they think that person would be a good fit," said Klardie. 
Constance Mulligan '22 is one of the mentors for the CWA. As a CWA member, Mulligan "email[s] the department heads and ask[s] if they would like to add anything to the bottom of the Toilet Talks, which the Community Wellness Ambassadors created. It's supposed to provide resources to those who don't feel comfortable coming forward and need help, and to spread more awareness to wellness activities we are trying to implement, such as Wellness Gym activities and Arts and Crafts with Mrs. Perry," said Mulligan. With her graduating this year, Mulligan would like to see the CWA grow and focus more on overall mental wellness, than heavily on academics throughout the school. 
The CWA has impacted the school greatly. The more attention brought to the CWA, the better they can do to help Hollis Brookline High School as a whole. If you want to add anything to Toilet Talk, or have any suggestions for the CWA, don't hesitate to email Mrs. Klardie or Mrs. Thompson for guidance.